Campaign Milestone
09/14/2016
Greg and Donna Wannemacher make $1 million campaign gift to Bluffton University
Bluffton University announced a $1 million dollar gift from Greg and Donna Wannemacher during the launch of Simply Innovate, the Campaign for Bluffton University. Greg Wannemacher is a university trustee and the co-chair of the Simply Innovate campaign. He graduated from Bluffton in 1977 with a degree in business and played football during his years on campus; Donna graduated from Bluffton in 1978 with an art degree. Greg Wannemacher is chairman of Wannemacher Total Logistics in Lima.
"While many of you are familiar with my passion for Bluffton athletics, at the end of the day, Bluffton's academic programs and faculty were crucial for achieving success in life and career," said Wannemacher. "Bluffton's faculty and my academic coursework, in business and the liberal arts, instilled in me the ideals and values that helped me build my business to what it has become today. I am honored to be part of a campaign that will provide Bluffton students and faculty with state-of-the-art science facilities and move Bluffton forward."
The announcement came at the end of a Sept. 14 lunch for Bluffton University faculty and staff where President James Harder announced the campaign goals and leadership.
"I believe this campaign will provide our students and teaching faculty with a much needed, new science building and also provide resources to sharpen our program delivery, grow Bluffton's enrollment and move Bluffton confidently into the future," said President James Harder.
The campaign has a comprehensive goal of $26 million with a high priority on opening a new science building in 2019. Campaign goals include:
$14.5 million for the Austin E. Knowlton science building
$5.5 million in annual support for the next five years
$5 million dollars to strengthen Bluffton's endowment with long-term support for student scholarships, faculty research and student discovery
$1 million dollar innovation goal to support new academic program development, faculty-student research and interdisciplinary initiatives that enrich learning for students in the natural and applied sciences and for all students
Bluffton University's 2014 facilities master plan process identified a new science center as the top priority for new academic facilities. In February, the university announced the Austin E. Knowlton Foundation of Cincinnati, Ohio, committed a $4 million gift toward construction of a new science building on Bluffton's campus. This naming gift was the largest gift in Bluffton's history and positioned the university to move forward with the Simply Innovate campaign.
President Harder explained the Simply Innovate tagline describes Bluffton University's faculty, staff and campus community.
"Every day, across this campus, employees simply get things done, in an unquestioned hardworking manner and, as our history tells us, innovation doesn't have to be a complex operation, and can instead come from simple steps and creative decisions done every day," said President Harder.
During the event, Dr. Hans Houshower, vice president of advancement, announced $9 million in gifts and commitments have been confirmed. With this project, Houshower is continuing the legacy of his grandfather who established Bluffton's chemistry program in 1913.
"More than a century later, I am very pleased to play a part in extending my grandfather's vision for outstanding and state-of-the-art science facilities with a new building," said Houshower. "Bluffton faculty and students are already carrying out research and securing national internships with modest facilities and equipment – imagine what they will achieve with new facilities and increased financial support for program innovation!"
The campaign will be led by volunteer campaign co-chairs Wannemacher and Dave Baumgartner, class of 1982 from Berne, Ind.
Baumgartner is an attorney and serves as chair of the advancement committee of the board of trustees. Four generations of his family are Bluffton alumni and he is the third member of his family to serve on the board of trustees.
"Bluffton provided transformative educational experiences for my grandfather, my parents, for me and Tanya and our sons, a daughter-in-law and other extended members of our family," said Baumgartner. "We are very pleased that one of our sons is a member of Bluffton's faculty, and we are committed to helping ensure that Bluffton is just as inspiring for our grandchildren and their children in the future."
-B-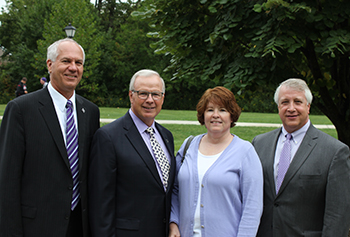 President James Harder stands with Greg and Donna Wannemacher and Dave Baumgartner during the launch of Simply Innovate, the Campaign for Bluffton University. The Wannemachers made a $1 million gift commitment during the event. Greg Wannemacher, a 1977 graduate, and Dave Baumgartner, a 1982 graduate, are campaign co-chairs and Bluffton trustees.