Faculty and staff
Students and faculty gather in new and familiar places for class.
CAMPUS
EVENTS HAPPENING THIS WEEK
Men's Basketball vs. Transy., Feb. 19:

6 p.m., Streaming links will be available at

www.blufftonbeavers.com
Women's Basketball at Transy., Feb. 20:

3 p.m., Streaming links will be available at

www.blufftonbeavers.com
Men's Basketball at Transy., Feb. 20:

5 p.m., Streaming links will be available at

www.blufftonbeavers.com
Volleyball vs. Rose-Hulman, Feb. 20:

3 p.m., Streaming links will be available at

www.blufftonbeavers.com
"Student Senate Presidential Debate" Forum, Feb. 23:

11 a.m. and 8 p.m., Various locations
Updates From Our Campus Community
Athletic Spectator Update: Starting Friday, Feb. 12, Bluffton will allow a limited number of students, faculty and staff to attend certain remaining indoor home games. Seats are limited.

Bluffton Bread Sales: The Bluffton Bread Company is back with a new specialty flavor—Red Velvet and Dark Chocolate. A limited amount of Red Velvet and Dark Chocolate Bread will be exclusively available cash and carry 11 a.m.-7 p.m. Thursday, Feb. 25, at Roots by Strattons, 111 S. Main Street, Bluffton, Ohio.

Bluffton University Research Center director: Applications are accepted for the BURC director. The BURC director receives three load hours per year. The major responsibilities of this position are to mentor faculty members as they develop research ideas, solicit proposals from faculty members, coordinate the external review process, and plan and host the Colloquium series.

Campus event opportunities: The Office of Student Involvement, as well as the Live Well Weekends strategic planning committee, would like to hear from faculty and staff! They want know what types of events and activities faculty/staff would be interested in attending, helping plan or volunteering at. If you have event ideas OR would like to volunteer to assist with events this semester and/or next year, please email Kevin White at whitek@bluffton.edu.

Kit Guide Recruitment: We are asking for your assistance in identifying students that you think might fit into this program! The first registration day is on April 10 this year. Please e-mail Mark Bourassa (bourassam@bluffton.edu) the names of any potential students and we will reach out to them.
FACULTY/STAFF ACHIEVEMENTS
Claire Clay presented "Communicating in a COVID-19 World" to the Communication Seminar class on Friday, Feb. 5, 2021. The class heard about Bluffton's preparation to bring students back to campus in fall 2020, as well as how the Advancement Division has adapted and provided necessary communication resources around campus.
Philip Sugden, assistant professor of studio art, will be offering an on-going (online), workshop for the non-profit, "Ask Stacey Now LLC," "Autoimmune 101; Building a Thriving Life", directed by Stacey Phillips, MOD, FNC.
Jeff Gundy's poem "Ponies" is in River Styx 103/104 (2020): 106-7.
Changes in our campus community
Mercedes Burns joins the admissions team as the Northern Territory Counselor. Mercedes is from Ashtabula, Ohio, and graduated from Bluffton University in 2018! As a student, Mercedes double majored in sports management and business administration with a marketing concentration. She was also a member of the golf and softball teams.
Get to know Bluffton's Students, faculty and staff…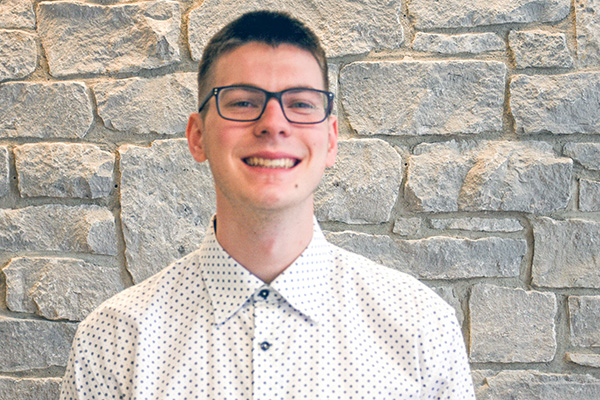 An internship during Riley Larcom's first year at Bluffton University confirmed his career aspirations and ramped up his pursuit of gaining hands on experience in the workplace.
Larcom '23, an accounting and business administration double major from Pandora, Ohio, completed an accounting internship at Mennonite Memorial Home during the 2019-20 academic year. Now, he's preparing for a second internship at Marathon Petroleum this summer.