Marbeck Center
MARBECK CENTER
Marbeck Center, Bluffton's student union, serves as the social, recreational, informational and community center of campus. The center is used for cultural and recreational programming for students, faculty, staff and guests of the university. It serves as a home for personal involvement in and commitment to the life of the university.
Marbeck Center houses campus dining facilities, a snack shop (Bob's Place), bookstore, post office, information services, space reservation services, meeting rooms, student activity services, student organization offices, Channel 2 (campus cable channel), art gallery, an ATM machine, change machine, copy and duplicating services, lost and found, a computer lab with e-mail and internet access along with a variety of other facilities.
While the basic function of the center is to meet the needs of the campus community, Marbeck Center also serves an important role as a meeting place for civic, community and religious groups.
Marbeck Center seeks to be a student-centered organization and facility whose programs, services and facilities cultivate community, enhance campus life and provide co-curricular opportunities that encourage personal growth and development while ultimately supporting the academic mission and values of Bluffton University.

Marbeck Center is proudly affiliated
with the Association of College Unions International.
THE ROLE OF THE COLLEGE UNION
The union is the community center of the college, serving students, faculty, staff, alumni and guests. By whatever form or name, a college union is an organization offering a variety of programs, activities, services and facilities that, when taken together, represent a well-considered plan for the community life of the college.
The union is an integral part of the educational mission of the college.
As the center of the college community life, the union complements the academic experience through an extensive variety of cultural, educational, social and recreational programs. These programs provide the opportunity to balance course work and free time as cooperative factors in education.
The union is a student-centered organization that values participatory decision making. Through volunteerism, its boards, committees and student employment, the union offers firsthand experience in citizenship and educates students in leadership, social responsibility and values.
In all its processes, the union encourages self-directed activity, giving maximum opportunity for self realization and for growth in individual social competency and group effectiveness
The union's goal is the development of persons as well as intellects.
Traditionally considered the "hearthstone" or "living room" of the campus, today's union is the gathering place of the college. The union provides services and conveniences that members of the college community need in their daily lives and creates an environment for getting to know and understand others through formal and informal associations.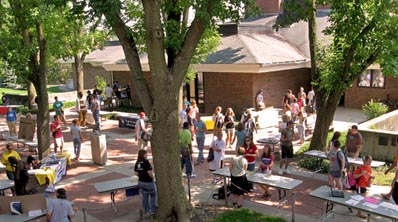 The union serves as a unifying force that honors each individual and values diversity. The union fosters a sense of community that cultivates enduring loyalty to the college.

Adopted by the Association of College Unions International's general membership in 1996, this statement is based on The Role of the College Union statement, 1956.
MARBECK CENTER HISTORY
The idea for a building which would serve as a focal center of the campus came in a June 3, 1965 report entitled "Notes on an Architectural Statement for Bluffton". By October of that year, a general location for the building was selected and in June 1966, 40 acres were purchased near the site. A building committee was formed to begin planning for the facility that was to become Marbeck Center. On July 18, 1966, the Board of Trustees selected Jack Hodell as the architect and the Turner Construction Company of New York to build the $1 million facility.
After receiving input from students, faculty and staff it became clear that the new student center should contain many areas of conversation with a great diversity of size, environment and accessibility. The new building would also need to fit in with the natural surroundings of the campus. It was to be the "town square" of campus with the college bookstore, dining services, post office, conversation areas and student organization offices all in one place and all within a four minute walk from any of the residence halls.
This building that would serve so many different needs was to be named Marbeck Center after one of the great early Anabaptist leaders, Pilgram Marbeck (or possibly Marpeck). Pilgram Marbeck was born in Rattenberg on the River in the Tyrol around 1495. He was a member of the city council, and in 1525, a member of the Rattenberg upper council. During this time he still was a practicing Catholic and held a position as a mining clerk. He was removed from office in 1528 when he refused to inform on the Anabaptists. Forced to leave his estate behind, Marbeck fled to Strasbourg and became an Anabaptist.
In Strasbourg, Marbeck served as the city engineer and was responsible for the construction of the town water system. In religious matters, he was tactful, yet tenacious. He was saved from prison, but asked to leave Strasbourg in 1532.
Marbeck continued to contribute to the Anabaptist cause by working to bring together small groups of believers from across southern Germany. The coming together of Anabaptist groups at Augsburg in 1555 and 1557 may have been the direct result of Marbeck's efforts. Pilgram Marbeck died of natural causes in 1556.
Pilgram Marbeck was an important and influential man in the history of the church and it seemed only fitting to name the building after someone like him.
Marbeck Center was officially dedicated on March 30, 1968. Former Bluffton student, Hugh Downs was the main speaker for the event. Mr. Downs was at the time the host for NBC's popular morning program, the Today Show.
MARBECK CENTER STAFF
DIRECTOR

ASSISTANT DIRECTOR

SECRETARY

CUSTODIAN

STUDENT ACTIVITY DIRECTOR

GRADUATE
ASSISTANT
FOR STUDENT
INVOLVEMENT

Glenn Snyder

1967-1968

Denise Risser

1995-1998

Caroline Gerber Fitzwater

1967-1968

Paul Reel

1978-1989

Christine Purves

1967-1969

Katie Kanable

2006-2008

Fred Amstutz

1968-1979

Hope Risner

1998-1999

Anne Vermillion Geiger

1976-1979

Pete Amstutz

1989-1993

Sue Wilch Groves

1969-1972

Brian Starkel

2008-2010

Lawrence Matthews

1979-1981

Cathy Bonner

1999-2001

Vera Arnold

1979

Rich Schofield

1993-1995

Caitlin Keelor

2010-2012

Amy Litzel
1981-1982

Daniel Hughes

2001-2004

Betty Gratz

1979-1984

John Schlector

1995

Stephanie Baugh

2012-present

Lawrence Matthews

1982-1992

Betsi Phalen

2004-2005

Marcia Gallant

1984-present

Dave Maroscher

1995-1997

Ron Slinger

1992-1995

Dan Stanowick

2005-2011

Daniel Hughes

1997-2001

Eric Fulcomer

1995-1996

Elizabeth Vaccaro

2011-present

Larry Lee

2001-2003

Mark Bourassa

1996-present

Larry Maynard

2003-2007

Mark Bias

2007-2019
MARBECK CENTER POLICIES
GENERAL POLICIES
Persons or groups should refrain from actions disrupting Marbeck Center's desired atmosphere. Distasteful or objectionable displays of affection are discouraged.
Lounge areas are for sitting, studying and conversation. Please refrain from placing feet on furniture, lying or sleeping in Marbeck Center.
All are urged to help keep Marbeck clean.
Food and beverages should be kept in their proper places. Items purchased in the snack shop should be kept in the Bob's Place or Loft. Unauthorized food and beverages are not permitted in the Gallery lounge.
Equipment and furnishings are not to be removed without the permission of the Director of Marbeck Center.
Only authorized personnel shall operate the sound system.
Only authorized personnel are permitted behind the information desk or in the mailroom.
Shirt and shoes should be worn at all times in Marbeck Center.
The Director of Marbeck Center is open to any student, faculty, staff or community member who wishes to offer suggestions or comments.

ROOM AND SPACE RESERVATIONS
Many rooms and spaces are available in Marbeck Center for student, faculty, staff and community use. These areas can be reserved at the Marbeck Information desk, by phone at ext. 3216 or via email at marbeck@bluffton.edu.
Rooms and space are reserved on a first come first serve basis. Marbeck Center reserves the right to reassign space if necessary. The Commons may not be reserved for activities when lunch is being served. Bob's Place may not be reserved for private functions while school is in session, unless approved by the director of Marbeck Center.
BULLETIN BOARD RESERVATIONS
Marbeck Center bulletin board may also be reserved. >>> University publicity policy
BOB'S PLACE WINDOW RESERVATIONS
The windows in Bob's Place may be reserved at the Marbeck Information Desk. >>> University publicity policy
Students, faculty & staff may check out recreational equipment from Marbeck Center. Table tennis, pool, foosball and carpetball equipment are available for use and check out in Bob's Place. Basketballs, volleyballs and playground balls are also available for use and may be checked out at the Marbeck Center Information Desk.
The following policies apply for recreation equipment use:
Equipment may only be checked out with a valid Bluffton ID or driver's license.
Equipment may not be checked out overnight without the permission of the director or assistant director of Marbeck Center.
MAILROOM POLICIES
Mailboxes - Mailboxes for all students, faculty and staff are located in Marbeck Center. Those who have not been notified of their mailbox number prior to the start of classes should contact the Mailroom Manager at the Marbeck information desk. Students are asked to have incoming mail addressed is the following manner:
Name
Bluffton University (box number)
1 University Drive
Bluffton, OH 45817
Packages
Students are notified of receiving packages by a package card being placed in their mailbox.
Packages may be picked up at the Marbeck information desk.
Packages may be picked up between 8 a.m. and 11 p.m. daily.
Forwarding Mail
During vacation periods, mail is held in the mailroom until student return to campus.
During the summer of after a student leaves the college, all first class mail is forwarded to the home address listed in the student directory or to a new address if a "Change of Address" form is completed and submitted to the mailroom manager.
All bulk mail and magazines will be discarded unless other instructions are given.
Bulk mail may be forwarded by filling out a "Change of Address" form and pay any postage due.
Daily or weekly newspapers are discarded during breaks unless a request is made to have them held or forwarded.
MAILBOX STUFFER POLICY
Any and all requests for mailbox stuffers must be approved by the director of the University Event Complex or an approved designer. More information about the mailbox stuffer policy may be found in the university publicity policy.
MARBECK MARKETPLACE
The Marbeck Marketplace is a bulletin board forum for students to buy and sell books and other items. The following policies govern the use of this area.
All notices must be dated. Notices without dates will be taken down.
Sellers are responsible for crossing off items that are sold.
Notices will be removed every two months.
BOX OFFICE
The University Box Office is open during regular building hours in Marbeck Center.
Credit card and checks are acceptable forms of payment at any time. Cash will only be accepted from 9 a.m.-12 noon on Tuesday and Thursday mornings.
For more information about the Box Office, call 419-358-3000.
The Marbeck Center Information Desk is the location of the university lost and found.
Lost and found items will be held for up to the length of one academic semester. Any remaining items will be donated or thrown away unless prior arrangements have been made to pick up an item at a later date.
VISITOR PARKING PASSES
Marbeck Center is the distribution center for visitor parking passes. Passes and the visitor parking pass record sheet can be found in a white binder at the main desk. Please note the following policies:


Passes may only be issued for one or two days.
Visitors should complete and sign the bottom portion of the visitor pass. the bottom portion of the pass should be kept in the black parking box at the desk. Visitors may only park in lots designated as visitor lots. Each visitor will receive a parking map from the white binder.
Students may pick up a pass for a visiting friend or family member.
Passes should be displayed from the front mirror of the vehicle.
Current Bluffton students may not be classified as visitors, but instead should get a temporary permit from Buildings and Grounds.