Faculty 360: Melissa Friesen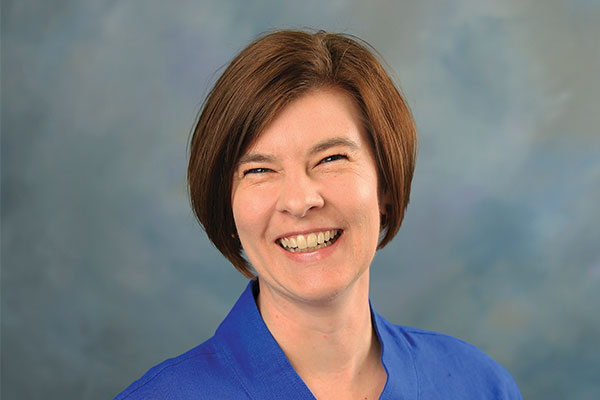 Dr. Melissa Friesen is the Mary Nord and Joseph Ignat endowed chair in theatre.
What is your process in choosing a theatre production for Bluffton?
Oh, my…it's a difficult process for me. I envy directors who have mental lists of the productions they'd like to do. I gather ideas whenever I can, then spend time primarily in the summers reading scripts. I'm looking for plays that are accessible yet achievably challenging for our student actors, designers and crew. I want plays that are stimulating emotionally, visually and intellectually. I love plays with vivid language and at least a bit of humor. Will I look forward to spending lots of time in this imagined world? Do I think our production team and audiences will, too? Will the cast and set fit physically on the Ramseyer Auditorium stage? Am I programming enough variety from year to year? Then either a printing deadline arrives or the semester begins, and I have to make a choice!
What memorable moment in your life shaped who you are today?
I was blessed to have frequent opportunities to learn leadership and communication skills growing up, which continue to serve me well today. Whether performing in a violin or piano recital, or serving as a worship leader or scripture reader in church as a teenager, or being encouraged by my parents and teachers to take those AP classes and audition for that play, I had the chance to stretch myself and learn through doing. I love that Bluffton University's general education curriculum encourages students to prototype their interests by trying out quick, low-stakes experiences to discover what gives them energy and inspires their curiosity. Having those kinds of opportunities helped me make meaningful life choices.
What new interest(s) are you pursuing?
Cooking—well, baby steps in that direction. During the pandemic shutdown I tried out a meal kit service which delivers all the ingredients and easy-to-follow recipes right to my door each week. Cooking is much more manageable and enjoyable when I don't have to shop or think about ingredients, and the meals are pleasantly healthy and delicious. During the May 2022 cross-cultural experience in Washington, D.C., I got to share meal preparation responsibilities with my student housemates! A valuable learning experience for all.