Class reunion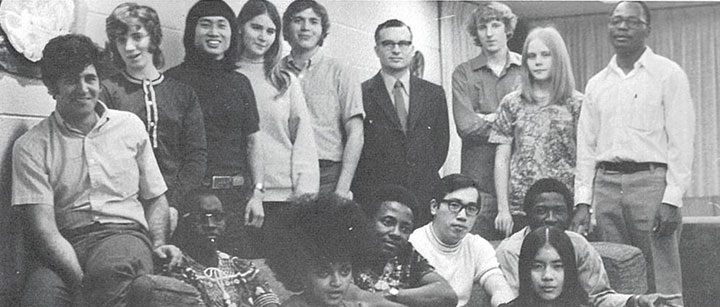 College buddies. Lifelong friends. No guarantee that your crew from Bluffton all graduated the same year.
Classes of 1972, 1973 and 1974 are invited to a summertime 50-year class "cluster reunion." Since many Bluffton alumni are close friends with, and even married to, alumni a year or two years ahead/behind, it makes sense to have a "cluster reunion."
50 year class cluster reunion
Classes of 1972, 1973 and 1974
July 21, 2023
| | |
| --- | --- |
| 3 p.m. | Guided campus tours begin from Marbeck Center |
| 4 p.m. | Reception, lower level of Marbeck Center |
| 5:30 p.m. | Dinner and program, Marbeck Center |
Class gift
Beavers traditionally combine resources towards a 50th Class Reunion Gift. This year our goal is $35,000 to renovate the Exercise Science Lab in the basement of Ropp Hall.
What are your classmates doing now?
The first "cluster reunion" was held in July 2021 due to postponing the 1970 reunion in 2020. Positive feedback was received from the nearly 100 classmates who attended from 1970 and 1971. Many made a weekend of it and stayed overnight to participate in the annual Alumni and Friends Golf Scramble sponsored by Bluffton's Athletics Department the next day.
The Alumni and Friends Golf Scramble, sponsored by the athletics department, will be held Saturday, July 22, 2023. Registration for the golf outing will be available later this spring. Review details from last year's event.
Renewing connections
Name
Town
Spouse
Attending the Reunion

Robert Joseph Alger '73

Dunkirk, Ohio
Sue Agler
Yes
Current activities

I volunteer at Love in the Name of Christ of Hardin County, substitute teach at Simon Kenton School, and teach a class for Lifewise Academy at Hardin Northern School. I also referee recreational soccer games. My wife and I watch lots of soccer and baseball games that our grandchildren are involved in. We are active participants at Walnut Grove Methodist Church.

Bluffton's impact

I didn't realize how great Bluffton was until I experienced BGSU. I transferred January of 1972. My high school sweetheart (Sue) transferred there from Toledo for the nursing program. It wasn't a close-knit community. I didn't make many friends. We got involved in Campus Crusade for Christ. that was more like Bluffton. We were married June 9, 1972, and have celebrated 51 years together.

Mubarak Awad '72
Gaithersburg, MD
Yes
Current activities
Working with children and families who have difficulty with their children. Also I am working with Latino children separated from their parents on the border.
Bluffton's impact
The education in social work has been a life changer for me, the faculty and staff work well with me to form my ideas on nonviolence.
David Dwight Bair '74
Seattle, Wash.
Wayne F. Winters
No
Current activities
Still figuring out retirement for a 43 year old couple. Wayne is just one year in, I've had a couple of years practice by now. Spending more time on the e-bike now that we're in dry season (hopefully).
Bluffton's impact
If I hadn't been at Bluffton with a supportive group of (mostly older) friends and faculty I would have probably not survived, it was a bit rocky even with the support. It was also a strong introduction to conservative religious bigotry (thanks Herb) which serves me still.

Betty Morse Billingsley '74

Westerville, Ohio

Chuck Billingsley '74 (deceased)

Yes
Current activities

I started my teaching career at Tolles Career Center in Plain City, Ohio and ended my career at the Ohio School for the Deaf, Columbus, Ohio. Had the pleasure of doing alterations and repairs for several dry cleaners in central Ohio. I now enjoy the many friends at water aerobics and the numerous sewing customers who keep me very busy. I'm very blessed to have both daughters, their spouses and my one an only granddaughter living near me. ❤️

Bluffton's impact

I enjoyed the small campus size and the friendships made. Most importantly were the Bluffton guys who were a huge help and support during Chuck's illness. I couldn't have gotten through those months without them.

Anita Miller Bixler '73
Medina, Ohio

George Bixler '72

Yes
Current activities

photography, gardening, travel, spending time with children and grandchildren

George Bixler '72
Medina, Ohio
Anita Miller Bixler '73
Yes
Current activities

Retired. Play a lot of piano - once a week at Medina Hospital lobby, church, weddings, receptions, other social events. Sometimes play in duet setting with first violinist from Akron Symphony Orchestra. Full time Grandpa.

Bluffton's impact

My relationship with spouse blossomed during our college years together. Formed a significant number of lifetime friendships. Gave me a good foundation for dual lifetime interests in business management and musical performance.

Ed Bratt '72
Leipsic, Ohio
Linda Butler Bratt '70
Yes
Current activities
I still substitute teach in Putnam County, and I also work part-time for Legacy Farmers' Cooperative in the spring and during harvest season.
Bluffton's impact
I met many people with very similar values, and those values transferred to a very enjoyable career in education.
Bonnie (Bonna) Jean Byrd Brown '74
Sebring, Fla.
John Frederick Brown '73
Yes
Current activities
I continue to attempt to learn the frustrating game of golf. Additionally, I am involved with directing and performing in a variety show in March. My most rewarding activity is enjoying time with my granddaughter in Ohio.
Bluffton's impact
I met the love of my life at Bluffton. Fifty years in August! (Hard to believe.) Special friendships as well as educational opportunities beyond the classroom- Bogota, Colombia, Quebec, Canada. Bluffton additionally provided me with the ability to become an elementary education instructor.
John Frederick Brown '73
Sebring, Fla.
Bonnie Brown '74
Yes
Current activities
I am retired and spend a good deal of my time on the golf course. Additionally, I like to travel when possible and truly enjoy visiting my granddaughter in Ohio. It has also been wonderful continuing to make connections with friends from college days at Bluffton.
Bluffton's impact
Friendships that were made. Meeting my wife of soon to be 50 years. Enjoying the opportunities I had of travel to Bogota, Colombia, for international studies, as well my years playing basketball.
Sam Brown '74
Medina, Ohio
Susan Brown
Yes
Current activities
Retired after a sales career in the printed flexible packaging industry. Like many, grandchildren are a big part of our lives. Also still enjoy golfing throughout the year with fellow graduates Cotner, Schrader and Campbell, although badly. We now spend our time between the Medina address and our home in the Blue Ridge mountains of North Georgia.
Bluffton's impact
I guess the best way to describe it is that Bluffton reinforced the values that I was raised by. Family, faith and just doing the right thing.
Janita (Jan) Hartzler Buerge '73
Kansas City, Missouri

Lonnie Buerge

Current activities

Retired May 1st after closing our retail store, World's Window, after almost 39 years of "bringing the world to Kansas City." Now on the Board of Directors of the Soldner Center for the Arts and Innovation in Aspen, CO, honoring the legacy of artists Paul ('46) and Ginny (Geiger) Soldner. Other interests include gardening and traveling, especially to visit our daughters, their spouses and our 2 grandchildren.

Bluffton's impact

Even though I grew up 8 miles from Bluffton College, it was easy to immerse myself in campus life, make many new friends and find classes that challenged me to explore directions for my life.

Cynthia Lehman Byler '72

Washington, DC

Daryl Byler

No

Current activities

I am a happily retired elementary teacher. Currently I enjoy volunteering as an ESL tutor, and various church outreach ministries. Grandparenting our 5 grandchildren is by far my favorite job!

Bluffton's impact

Attending Bluffton was a first step in broadening my life experience and world view and I was challenged to look outside my comfort zone when considering teaching opportunities. I first heard of the voluntary service program at Bluffton which had a huge impact on my life trajectory. I deeply appreciate those four years at Bluffton.

Curt Campbell '74

Howard, Ohio

Donna Campbell

Yes

Current activities

Retired

Bluffton's impact

I made lifetime friends, and learned enough to help me get a job and career that lasted 37 years in the flexible packaging industry.

Louis K Chiu '73
Copperopolis, Calif.
Mary Anne
Yes
Current activities
Retired, spend time with our kids and grandkids. Play in a Chinese Orchestra and a Western Orchestra. Serve as a Sheriff Volunteer at the Calaveras County Sheriff Department.
Bluffton's impact
Bluffton University, You Raise Me Up!
Jim Cotner '74
Whitehouse, Ohio
Kathryn
Yes
Current activities
I retired in 2016 and now spend my time enjoying our four grandchildren, volunteering at church, RVing and golfing with friends.
Bluffton's impact
I was blessed to develop friendships that will last a lifetime.
Sue (Susan Neuenschwander) Cupples '73
Findlay, Ohio
Jack Cupples '73
Yes
Current activities
Retired certified school librarian from Carey Exempted Village Schools (BGSU and University of Findlay graduate). Volunteer activities at St. Paul's UMC, Findlay. Hobbies are reading, knitting, crocheting, baking, skiing, and activities with family.
Bluffton's impact
My time at Bluffton gave me a larger world perspective. I appreciated the diversity of thoughts and experiences of others.
Susan (Wolfgang) Davis '74
Brentwood, Tenn.
Michael Davis
Yes
Current activities
Retired after 40 years as a librarian at Vanderbilt University. Enjoy reading and traveling. Volunteer at Meals on Wheels, and testing olf recipes for historical society.
Bluffton's impact
The personal attention at Bluffton provided me with a great foundation for graduate school and life.

Charlie Doepker '73

Ottawa, Ohio

Jane Causey Doepker '74

No

Current activities

Charlie continues to play solo gigs along with playing in 4 different bands, and has been substitute teaching here at Ottawa-Glandorf for the past 15 years. Jane makes greeting cards for all occasions as a hobby. Jane and I will celebrate 49 years of marriage in August.

Bluffton's impact

Bluffton provided a foundation to build upon.

Esther Kreider Eash '74

North Newton, Kansas

William Eash '74

Yes

Current activities

Retired in 2021 after career in K-12 school professional development and teaching. Currently enjoying time in my studio (pen & ink, watercolor, quilting), volunteering at Kauffman Museum and MCC Central States Material Resource Center, traveling/camping, and visiting family in WI and PA.

Bluffton's impact

Bluffton gave me a solid base to begin my career in K-12 education, cultivated diverse friendships, and introduced me to my spouse of 50 yrs.

Willam Eash '74

North Newton, Kansas

Esther Kreider Eash '74

Yes

Current activities

Retired in 2022 after career in choral conducting--most recently 23 years at Bethel College. Currently enjoying time reading, traveling, visiting our children in PA & WI, and volunteering at MCC Central States Material Resource Center where I drive the fork lift!

Bluffton's impact

Bluffton expanded my world view, fostered my critical thinking skills, and created an environment where I made many fine friendships.

Larry Fry '72
Mayfield Village, Ohio
Livia '72
No
Current activities
Retired after thirty-six years of teaching/coaching for the Shaker Heights School District. Currently an Ohio Volleyball and OVR club volleyball referee. Enjoy traveling/cruising, riding motorcycle, playing completive softball, and playing and watching our five grandchildren grow, play sports and dance.
Bluffton's impact
Bluffton helped me greatly on my spiritual and religious life. It helped give me the basics of being a teacher, mentor and role model to young men and women. Being a Beaver helped cement my belief in hard work and dedication to achieve success.

Barbra Baumgartner Gant '73

East Liberty, Ohio
Yes
Current activities

I live 85 miles from my parents (ages 98 and 99), who are in Assisted Living. I visit them weekly and take them to medical appointments, and treasure every moment with them. I visit my 3 grandchildren in Miami, FL a couple of times a year. I'm very involved in the local Democratic Party and with actions for progressive change in Ohio. I'm a member of Columbus Mennonite Church, which is a good spiritual home for me. I live in the country, but I have a best friend nearby, and other friends who are also politically involved.

Bluffton's impact

Bluffton prepared me well for grad school and for my 41 year career as a social worker in settings including community mental health, adoptions, and medical hospitals. Bluffton also nurtured the social conscience that has motivated and shaped my lifework, both in my social work career and in my current volunteer work.

Janis Ramseyer Gingerich '72
Burton, Ohio
Dan Gingerich
Yes
Current activities
For 10 years I've been retired from a career in education as a teacher and elementary principal. Now I volunteer weekly and visit children and grandchildren.
Bluffton's impact
Bluffton's summer program to Columbia instilled a love for learning about different cultures and countries. It strengthened my faith, gave me lifelong friends, and prepared me well to become an educator.
Hans Houshower '74
Oakland, Calif.
Linda Houshower
Yes
Current activities
I am retired after a career in the non-profit sector including 15 years as VP for Advancement for Bluffton. I'm settling in to the SF Bay area with my two sons and their families and looking forward to increased volunteer activities and hiking in 2023.
Bluffton's impact
As a third generation employee, my entire life was profoundly influenced by Bluffton. The Truth Makes Free is among my earliest memories and I haver wonderful memories of the impact of the Inter-term during my two years as a student. Bluffton was a place to experiment and explore boundaries with great faculty support.
William "Bill" "Hud" Hudson Jr '74
Fort Worth, Texas
Yes
Current activities
Retired teacher, administrator
Bluffton's impact
In those trying times…civil unrest, student revolts, rioting, Nam…Bluffton allowed me to express myself, grow in wisdom, meet/listen/learn of other cultures. Oh yea, great mathematics background.
Rebecca (Hyatt/Sheldon) Leedom '74
Columbus, Ohio
Yes
Current activities
I am happily retired and enjoying time with family and friends. Golfing, swimming, traveling, reading and crafting fill my days.
Bluffton's impact
Bluffton provided me with a successful career in mathematics. Pursuing my mathematics major was made possible through small classes and individual instruction, especially that of Dr. Howard Krehbiel. The college provided me with a very well-rounded education, and I have many fond memories of my four years on campus. Spending the summer in Bogota, Columbia, was an invaluable experience. It is amazing how many Bluffton graduates I have encountered over the years, and they are quality individuals.
Becky (Yoder) and Terry Malone '73
Lexington, Ky.
Yes
Current activities
Becky:

Retired from teaching reading to special needs students. I play tennis, in a book club. My volunteer activities: teach ESL, deliver meals on wheels, help in a food pantry at Nathaniel Mission

Terry: University of Kentucky - Physical therapy professor
Bluffton's impact

Becky: It prepared me for my teaching career and I met my spouse, Terry Malone.

We both gained appreciation of community and life perspective.

Karen Miller Mareco '73
Columbus, Ohio
Yes
Current activities
I continue to work as a support specialist at Jenzabar, Inc. and plan to do so as long as I still enjoy it. I have worked remotely for over 30 years so I consider myself one of the original telecommuters. I do lots of reading and participate in activities at Columbus Mennonite Church. I love when I can spend time with my three children and 4 grandchildren.
Bluffton's impact
Bluffton helped me to develop who I am and what I believe. I particularly remember taking an Anabaptist history course and having that really resonant with me.
Mike McClure '73
Swanton, Ohio
Deborah '73
Yes
Current activities
Retired teacher
Bluffton's impact
Making life-long friends. Playing and coaching baseball and basketball. I still played baseball till I turned 71.
Douglas Meister '74
Louisville, Ky
Diane Shelton Meister
Yes
Current activities
Retired after 45 years in ministry in Tennessee, Ohio and Kentucky. Served/serving on Regional and General Ministry committees as well as on Ecumenical teams including the Roman Catholic/Disciples of Christ Dialogue. Avid collector of A. H. Heisey of Newark, Ohio, antique glassware and percussionist in the River Cities Concert Band of Louisville, Ky.
Bluffton's impact
Burton Yost and Perry Yoder prepared me well for the academic challenges of Vanderbilt Divinity School as well as a future in the parish ministry.
Janet (Inbody) Merkel '73
Findlay, OH
Dan Merkel '75
Yes
Current activities

Retired in 2011, after teaching 1st graders for 38 years at Riverdale Schools (near Findlay.) I still stay connected to Riverdale, as once a month, every year, I visit the 1st grade classrooms. I have fun reading my favorite storybooks to each class, teaching lessons about "Paying It Forward" to others…Hoping they will follow my example. Especially, enjoying lots of time with our three grandkids (I even go to their classroom to read.) Dan and I have enjoyed cruising, especially to Alaska. Also, enjoy volunteering in various church activities.

Bluffton's impact

Bluffton helped me to thrive with it being a small, friendly community with a beautiful campus. Having the opportunity to live in the dorms with others…and enjoying the camaraderie on various sports teams added a lot to my education here. Plus, I had the fortune of meeting my husband, Dan, here during my senior year.

Mary Ann Augspurger Moman '73
Indianapolis, Ind.
Yes
Current activities
I am retired from United Methodist ministry. I'm enjoying time with children and grandchildren. I volunteer with Indiana Landmarks. In retirement I have continued to work with new clergy in the Indiana Conference. This gives me hope for the future.
Bluffton's impact
My education at Bluffton expanded my world and my experience of different cultures. The freedom to explore new ideas opened my heart and mind.
George Rable '72
Tuscaloosa, AL
Kay Kohli Rable '72
Yes
Current activities
Retired history professor, University of Alabama. I continue to research and write books about the Civil War era. I teach an adult Sunday School class. Enjoy travel, exercise, and playing bridge. Despite my employment history, I remain an LSU Tiger fan.
Bluffton's impact
Being a first generation college student, Bluffton changed my life by opening up a whole new world of knowledge. I met my wife Kay in the fall of 1968 and we have now been married over fifty years. Unsure of what to major in, I met John Unruh the following year and he inspired me to become a historian and professor. A superb teacher, great scholar, and fine human being, my debt to John Unruh is incalculable.
Kay Kohli Rable '72
Tuscaloosa, AL
George C. Rable '72
Yes
Current activities
I am the organizer/communications contact for almost all the groups I am involved with! As a former librarian, that's what I am good at! George and I enjoy playing Duplicate Bridge. We meet often with friends for bridge and other card games. We enjoy traveling abroad and car trips in the USA. Visits with our family, especially our to grandsons, are important to us.
Bluffton's impact
Having graduated from a small high school, Bluffton was a perfect fit for me. The professors and classes challenged me and broaden my horizons. Of course, meeting my husband, George Rable, will always be the most important part of my Bluffton experience!
Jane (Bower) Richards '72
Bluffton, Ohio
Yes
Current activities
Retired from teaching. Volunteer at local hospital and school. Travel frequently to spend time with family and friends.
Bluffton's impact
Following my upbringing from my wonderful parents, Bluffton University was my foundation during my teaching career. Proud of that!
Marty Riggs '74
Marion, Ohio
Paula
No
Current activities
After being in field of education for 32 years I retired in 2005 in order to accept the position as Assistant Baseball Coach at Duke University, Durham, NC. A position I will cherish the remainder of my life. I then accepted a position with Columbus Clippers Baseball Organization from 2011 to the present. I also continue to follow each of my 5 grandkids in their activities ranging from educational and athletic events.
Bluffton's impact
I was able to learn what hard work and positive influences from the Bluffton coaches and educators would help me later in my life.
Adah (Milan) Roberts '73
Macon, GA
Dr. Franc Wallace, MD
Yes
Current activities
I am a Certified Public Accountant. I have served as Finance Director for both the City of Macon and the City of Jacksonville, NC. I am retired from working for anybody else. I am a member of the League of Women Voters, on the board of several non-profits and volunteering with a few others. My family has most of my attention now. My husband and I like to travel.
Bluffton's impact
Bluffton is where I first became culturally aware of who I am, thanks to Ms. Bixler. I feel I received a good education that propelled me to get my MBA in accounting from Michigan State University. As I look back I can see how kind the faculty were and open to trying to heal racial wounds.
Doris (Hamman) Schumacher '72
Brookings, SD
Tom Schumacher '72
Yes
Current activities
I attend church and teach English Language Learners.
Bluffton's impact
Met my spouse. Interterm independent learning experience with my roommate, Marybeth Corbet. (Opportunity to meet Marguerite de Angeli, children's Newberry Award Winner, in her home) Jim Bixel's Fine Art's course (appreciation of arts and architecture in our travels), and music experiences.
Tom E. Schumacher '72
Brookings, SD
Doris (Hamman) Schumacher '72
Yes
Current activities
Professor Emeritus, South Dakota State University; board member of EcoSun Prarie Farms (non-profit working to include native prarie in agricultural systems); board member Brookings Multicultural Center; Sermon on the Mount Mennonite Church; South Dakota Agricultural Heritage Museum. I enjoy reading, indoor gardening, cooking, and new experiences.
Bluffton's impact
Bluffton College made a major impact on my life. The biology degree from Bluffton made possible my professional career in Plant and Soil Sciences. The liberal arts background from Bluffton significantly improved my teaching, research, and work with students from international backgrounds. At work I had a different perspective about learning and life than many of my colleagues and this helped me to succeed in my position. As a result of my time at Bluffton I have reatined a broad interest in many subjects and enjoy learning.
Patricia (Simmons) Shaner '74
Bluffton, Ohio
Rick Shaner '73
Yes
Current activities
Substitute teacher at Bluffton Elementary; Youth work at Ebenezer Mennonite Church
Bluffton's impact
Did an excellent job preparing me for a teaching career. Also, my faith was cemented as an adult during my years there. I also met my husband!!!
Patricia (Roush) Sheidler '72
Bluffton, Ohio
Dennis Sheidler '70
Yes
Current activities
I'm a retired teacher, now enjoying quilting, reading, bicycling, and traveling. I am active at First Mennonite Church, Bluffton, where I volunteer in various capacities. I enjoy playing the mountain dulcimer with a local group.
Bluffton's impact
I made a number of life-long friends, including my husband of 50 years. I learned to balance work and fun, and especially had fun playing pinochle at Marbeck.
Sally Weaver Sommer '74
Bluffton, Ohio
Jon Sommer '73
Yes
Current activities
I am retired. I am on several boards including Et Cetera Shop, Inc. in Bluffton and two national Quaker boards. I volunteer at ReStore in Lima and at the Etc. stores here in Bluffton. I am also very involved in our local Quaker meeting and our what we call yearly meeting.
Bluffton's impact
I spent my first year and a half of college in Colombia, South America. I went down first with Bluffton's summer cross-cultural experience and then studied for a semester with the Council of Mennonite Colleges program in Colombia. I then stayed for another year on my own. The fact that Bluffton allowed me to do this had a huge impact on my life. It helped define my professional direction and my personal commitments.
Jane Kingsley Steinmetz '72
Bluffton, Ohio
Mark Steinmetz '70, deceased
Yes
Current activities
My current "work" consists of working out in the basement, walking my dog, weeding, and watching over nature as she unfolds in the woods and pond by my house. I volunteer at the beautiful Etcetera Shop in Bluffton. Other interests are my 4 children and their families (10 grandchildren, ages 1-26), traveling near and far, biking, tennis, reading, church, and spending time with friends. Before retirement, I taught at Bluffton Elementary School and mothered my children through school, sports, college and beyond!
Bluffton's impact
Bluffton College impacted my life by providing a safe, nurturing environment, and educationally fostering my interests in education, music, and a host of other notions. Because of my Education degree I was able to teach school, a career I loved. I met my spouse, Mark Steinmetz, at Bluffton College. He went on to become a doctor, practicing in Bluffton, all of which also impacted my life greatly.
Minnie Toler '74
Buford, Georgia
Yes
Current activities

Retired. Enjoying adventures with grandchildren, hiking and quilting.

Karen Rinehart Van Zile '74
Murrells Inlet, S.C.
Michael Van Zile '73, deceased
No
Current activities
I have retired to the beach of South Carolina after 37 years in secondary education and administration. I am loving life; active in my community and church activities.
Joseph Thomas Wechter '73
Ontario, Ohio
Lynn
Yes
Current activities
I own an insurance agency in Shelby, Ohio, and plan to continue showing up as long as my health allows. Serve on several volunteer boards in the area. Just built a house near our daughter's family to be more involved with the grandchildren. Enjoy golfing, travelling, grandkids sporting events and spending time with family and friends.
Bluffton's impact
We attending during an interesting time for our nation and society and I learned to be more open minded to change, and deal with challenges in life. My Bluffton education has served me well over the years !