Class reunion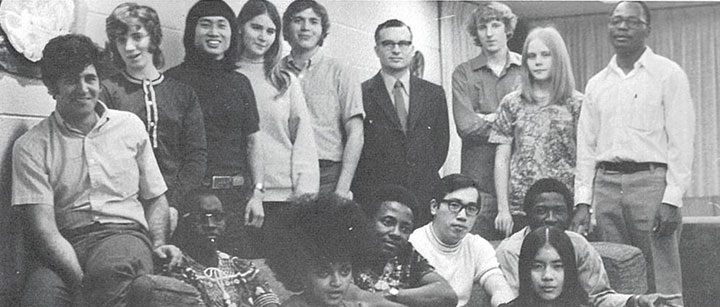 College buddies. Lifelong friends. No guarantee that your crew from Bluffton all graduated the same year.
Classes of 1972, 1973 and 1974 are invited to a summertime 50-year class "cluster reunion." Since many Bluffton alumni are close friends with, and even married to, alumni a year or two years ahead/behind, it makes sense to have a "cluster reunion."
50 year class cluster reunion
Classes of 1972, 1973 and 1974
July 21, 2023
| | |
| --- | --- |
| 3 p.m. | Guided campus tours begin from Marbeck Center |
| 4 p.m. | Reception, lower level of Marbeck Center |
| 5:30 p.m. | Dinner and program, Marbeck Center |
Class gift
Beavers traditionally combine resources towards a 50th Class Reunion Gift. This year our goal is $35,000 to renovate the Exercise Science Lab in the basement of Ropp Hall.
What are your classmates doing now?
The first "cluster reunion" was held in July 2021 due to postponing the 1970 reunion in 2020. Positive feedback was received from the nearly 100 classmates who attended from 1970 and 1971. Many made a weekend of it and stayed overnight to participate in the annual Alumni and Friends Golf Scramble sponsored by Bluffton's Athletics Department the next day.
The Alumni and Friends Golf Scramble, sponsored by the athletics department, will be held Saturday, July 22, 2023. Registration for the golf outing will be available later this spring. Review details from last year's event.
Renewing connections
Name
Town
Spouse
Attending the reunion
Bonnie (Bonna) Jean Byrd Brown '74
Sebring, Fla.
John Frederick Brown '73
Yes!
Current activities
I continue to attempt to learn the frustrating game of golf. Additionally, I am involved with directing and performing in a variety show in March. My most rewarding activity is enjoying time with my granddaughter in Ohio.
Bluffton's impact
I met the love of my life at Bluffton. Fifty years in August! (Hard to believe.) Special friendships as well as educational opportunities beyond the classroom- Bogota, Colombia, Quebec, Canada. Bluffton additionally provided me with the ability to become an elementary education instructor.
John Frederick Brown '73
Sebring, Fla.
Bonnie Brown '74
Yes!
Current activities
I am retired and spend a good deal of my time on the golf course. Additionally, I like to travel when possible and truly enjoy visiting my granddaughter in Ohio. It has also been wonderful continuing to make connections with friends from college days at Bluffton.
Bluffton's impact
Friendships that were made. Meeting my wife of soon to be 50 years. Enjoying the opportunities I had of travel to Bogota, Colombia, for international studies, as well my years playing basketball.
Sam Brown '74
Medina, Ohio
Susan Brown
Yes
Current activities
Retired after a sales career in the printed flexible packaging industry. Like many, grandchildren are a big part of our lives. Also still enjoy golfing throughout the year with fellow graduates Cotner, Schrader and Campbell, although badly. We now spend our time between the Medina address and our home in the Blue Ridge mountains of North Georgia.
Bluffton's impact
I guess the best way to describe it is that Bluffton reinforced the values that I was raised by. Family, faith and just doing the right thing.
Louis K Chiu '73
Copperopolis, Calif.
Mary Anne
Yes!
Current activities
Retired, spend time with our kids and grandkids. Play in a Chinese Orchestra and a Western Orchestra. Serve as a Sheriff Volunteer at the Calaveras County Sheriff Department.
Bluffton's impact
Bluffton University, You Raise Me Up!
Susan (Wolfgang) Davis '74
Brentwood, Tenn.
Michael Davis
No
Current activities
Retired after 40 years as a librarian at Vanderbilt University. Enjoy reading and traveling. Volunteer at Meals on Wheels, and testing olf recipes for historical society.
Bluffton's impact
The personal attention at Bluffton provided me with a great foundation for graduate school and life.
Larry Fry '72
Mayfield Village, Ohio
Livia '72
No
Current activities
Retired after thirty-six years of teaching/coaching for the Shaker Heights School District. Currently an Ohio Volleyball and OVR club volleyball referee. Enjoy traveling/cruising, riding motorcycle, playing completive softball, and playing and watching our five grandchildren grow, play sports and dance.
Bluffton's impact
Bluffton helped me greatly on my spiritual and religious life. It helped give me the basics of being a teacher, mentor and role model to young men and women. Being a Beaver helped cement my belief in hard work and dedication to achieve success.
Janis Ramseyer Gingerich '72
Burton, Ohio
Dan Gingerich
Yes!
Current activities
For 10 years I've been retired from a career in education as a teacher and elementary principal. Now I volunteer weekly and visit children and grandchildren.
Bluffton's impact
Bluffton's summer program to Columbia instilled a love for learning about different cultures and countries. It strengthened my faith, gave me lifelong friends, and prepared me well to become an educator.
Hans Houshower '74
Oakland, Calif.
Linda Houshower
Yes!
Current activities
I am retired after a career in the non-profit sector including 15 years as VP for Advancement for Bluffton. I'm settling in to the SF Bay area with my two sons and their families and looking forward to increased volunteer activities and hiking in 2023.
Bluffton's impact
As a third generation employee, my entire life was profoundly influenced by Bluffton. The Truth Makes Free is among my earliest memories and I haver wonderful memories of the impact of the Inter-term during my two years as a student. Bluffton was a place to experiment and explore boundaries with great faculty support.
Becky and Terry Malone '73
Lexington, Ky.
Yes!
Current activities
Becky: Retired from reading instruction Now doing English -2nd language and tutoring Terry: University of Kentucky - Physical therapy professor
Bluffton's impact
We both gained appreciation of community and life perspective.
Mike McClure '73
Swanton, Ohio
Deborah '73
Yes
Current activities
Retired teacher
Bluffton's impact
Making life-long friends. Playing and coaching baseball and basketball. I still played baseball till I turned 71.
Douglas Meister '74
Louisville, Ky
Diane Shelton Meister
Yes
Current activities
Retired after 45 years in ministry in Tennessee, Ohio and Kentucky. Served/serving on Regional and General Ministry committees as well as on Ecumenical teams including the Roman Catholic/Disciples of Christ Dialogue. Avid collector of A. H. Heisey of Newark, Ohio, antique glassware and percussionist in the River Cities Concert Band of Louisville, Ky.
Bluffton's impact
Burton Yost and Perry Yoder prepared me well for the academic challenges of Vanderbilt Divinity School as well as a future in the parish ministry.
Mary Ann Augspurger Moman '73
Indianapolis, Ind.
Yes
Current activities
I am retired from United Methodist ministry. I'm enjoying time with children and grandchildren. I volunteer with Indiana Landmarks. In retirement I have continued to work with new clergy in the Indiana Conference. This gives me hope for the future.
Bluffton's impact
My education at Bluffton expanded my world and my experience of different cultures. The freedom to explore new ideas opened my heart and mind.
Jane (Bower) Richards '72
Bluffton, Ohio
Yes!
Current activities
Retired from teaching. Volunteer at local hospital and school. Travel frequently to spend time with family and friends.
Bluffton's impact
Following my upbringing from my wonderful parents, Bluffton University was my foundation during my teaching career. Proud of that!
Marty Riggs '74
Marion, Ohio
Paula
No
Current activities
After being in field of education for 32 years I retired in 2005 in order to accept the position as Assistant Baseball Coach at Duke University, Durham, NC. A position I will cherish the remainder of my life. I then accepted a position with Columbus Clippers Baseball Organization from 2011 to the present. I also continue to follow each of my 5 grandkids in their activities ranging from educational and athletic events.
Bluffton's impact
I was able to learn what hard work and positive influences from the Bluffton coaches and educators would help me later in my life.
Sally Weaver Sommer '74
Bluffton, Ohio
Jon Sommer '73
Yes!
Current activities
I am retired. I am on several boards including Et Cetera Shop, Inc. in Bluffton and two national Quaker boards. I volunteer at ReStore in Lima and at the Etc. stores here in Bluffton. I am also very involved in our local Quaker meeting and our what we call yearly meeting.
Bluffton's impact
I spent my first year and a half of college in Colombia, South America. I went down first with Bluffton's summer cross-cultural experience and then studied for a semester with the Council of Mennonite Colleges program in Colombia. I then stayed for another year on my own. The fact that Bluffton allowed me to do this had a huge impact on my life. It helped define my professional direction and my personal commitments.
Joseph Thomas Wechter '73
Ontario, Ohio
Lynn
Yes
Current activities
I own an insurance agency in Shelby, Ohio, and plan to continue showing up as long as my health allows. Serve on several volunteer boards in the area. Just built a house near our daughter's family to be more involved with the grandchildren. Enjoy golfing, travelling, grandkids sporting events and spending time with family and friends.
Bluffton's impact
We attending during an interesting time for our nation and society and I learned to be more open minded to change, and deal with challenges in life. My Bluffton education has served me well over the years !