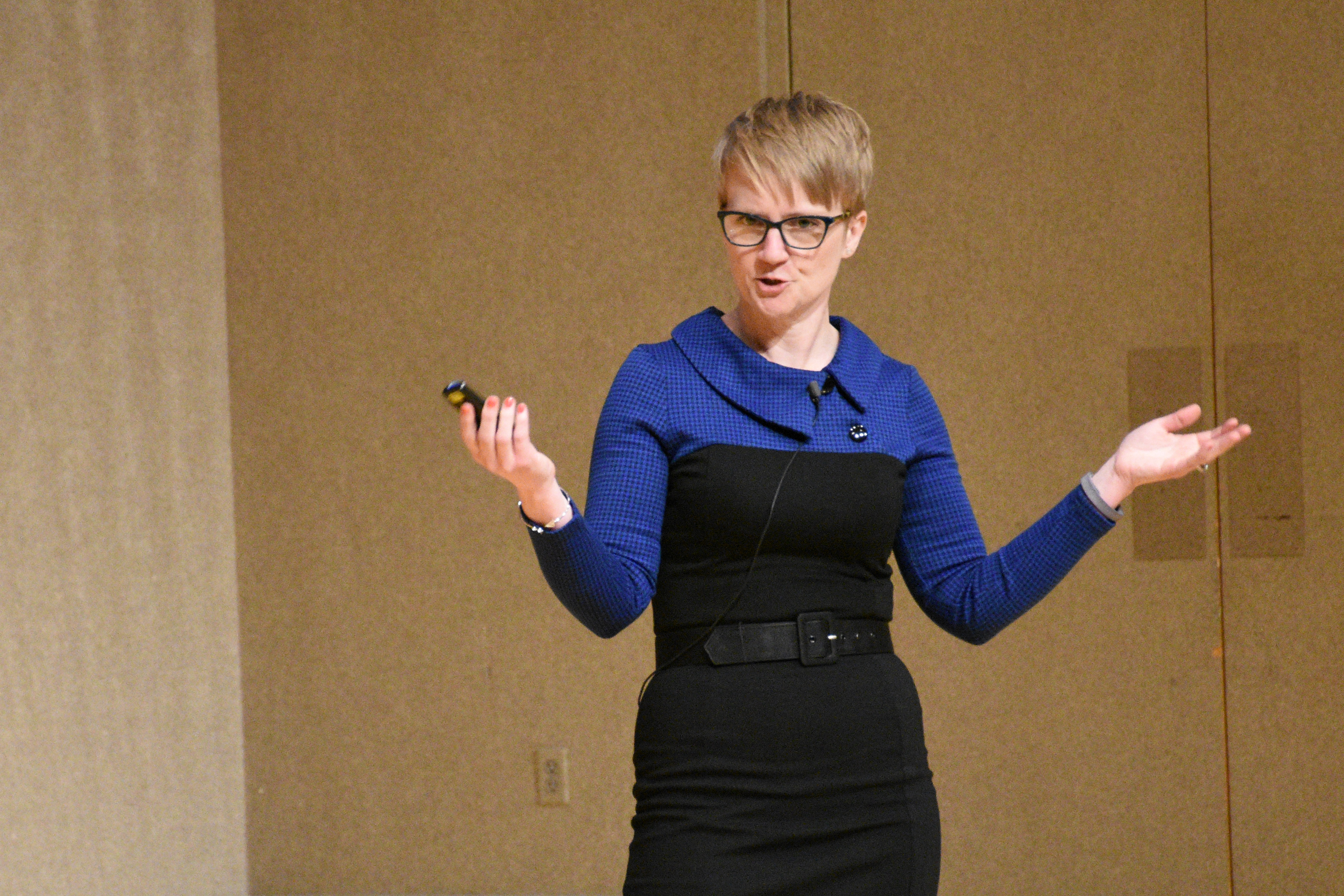 ---
In an era when divisiveness and negative rhetoric seems to not only be encouraged but even admired, Marathana Prothro is instead encouraging understanding.
Civic Engagement Day
Cultivating Modern Minimalism:
Planet, People and Popular Culture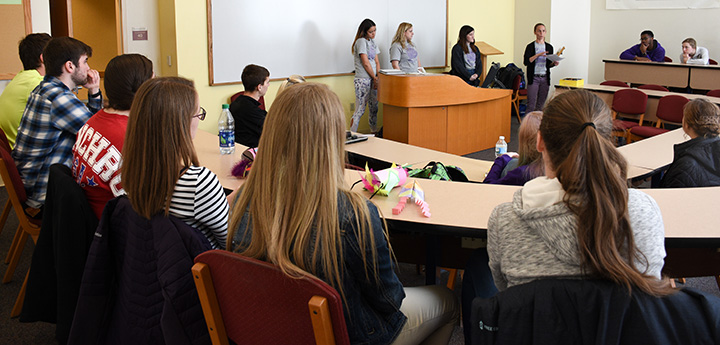 Civic Engagement Day is the culmination of year-long exploration of the civic engagement theme, an opportunity for members of the campus community to share the broad learning taking place. The entire campus community is encouraged to participate in events throughout the day.
---
April 6, 2022
Civic Engagement Day schedule
8 a.m.

Complexity from simplicity: How simple rules can produce surprising (and sometimes beautiful) results.
Darryl Nester
Stultzman Lecture Hall
Mathematicians like to develop big ideas – numbers, geometry, probability, etc. – by starting with a small collection of assumptions and then seeing what kind of conclusions they can draw from them. We'll explore some examples of this, including intricate pictures created with simple procedures, and some engaging games with very few rules.

9 a.m.

Work, life, commitment, balance? Student-led reflection on harmonious living
Chris Morrisey's Anthro Soc class
Centennial Hall 211
Anthropology students are researching some of our cultural expectations around work, commitments and balance and their implications for a harmonious life. They will present their thoughts on their research and ask for your involvement in considering your own experience of these topics.
30 Days, 1 Shirt
Walt Paquin
Yoder Recital Hall
This presentation will explore the values of a minimalist wardrobe. What is it like to wear the "same" clothes every day? What are the environmental impacts, will people notice, is it gross, what other impact does this have on our lives? This presentation will draw on personal experience as well as others experiences through YouTube videos.
Building friendships between Palestinians and Americans
Paul Neufeld Weaver
Stutzman Lecture Hall
Might there be simple answers to complex problems? Finding the essence of critical issues in education - 3 presentations about critical issues in education by students who previously took issues in education.

10 a.m.

SERVE's spring break trip overview
Holly Metzger and members of SERVE
Centennial 211
Members of SERVE that went on the spring break trip will talk about the work they did in New Jersey and how they worked with Urban Promise.
The Christian practice of simplicity
Randy Keeler
Stutzman Lecture Hall
This seminar will introduce the participants of the Christian spiritual practice of simplicity. The Christian teaching of this practice over the centuries will be reviewed along with the question of how one lives simply in our modern culture.
Eglon's Fatness: An experiment in ethical interpretation
Jackie Wyse-Rhodes
Yoder Recital Hall
Proponents of modern minimalism are sometimes motivated by aesthetics or sustainability, and, in both cases, minimalism interacts with the way we perceive and interact with the world "out there." But what if the rhetoric of minimalism is directed instead at our own bodies, at our very selves? In these cases, minimalism can cause harm, exacerbating body image issues and reinforcing cultural hierarchies around "better" and "worse" bodies. These and related assumptions about human bodies influence the way we read and interpret ancient texts, including the Bible. This workshop will introduce us to a method of ethical reading, in which some modern assumptions about bodies are called into question. The story we will consider together is found in the book of Judges
Training more with less
HFS 310 Kinesiology Class
Founder's Gym
Students and instructor will share information about wasted money and gym equipment, how to achieve multiple goals of training with minimal to no equipment at all. There will be hands on demonstrations and an opportunity to try different exercises.

11 a.m.

WWII; Bluffton College and the national Japanese Student Relocation Council
Cierra Long
Centennial 211
This presentation will be a condensed version of my History Research Seminar paper. I will discuss how Bluffton College, mainly President Lloyd Ramseyer, worked alongside the National Japanese Relocation Council to bring Japanese American students to the college after they had been displaced through internment. My argument considering minimalism is: Although Bluffton College did not enroll a large number of relocated Japanese American (Nisei) students, they never stopped applying their Mennonite peace and nonviolence morals to make these students feel welcomed, safe, and accepted despite the surrounding discrimination.
Canning food as Modern Minimalism
Anne Barrett
Stutzman Lecture Hall
In this session, Anne will talk about the basics of canning and how it relates to living in harmony with ourselves, our families, our communities and brings us to reduce our reliance on corporate food production by producing wholesome food with known ingredients ourselves.
Shema through STEAM: for the love of art, science, people and earth
Steve Harnish
Yoder Recital Hall
We'll explore how art, combined with science, technology, engineering and mathematics, can become a powerful force to serve people and planet. Ancient biblical literature (the Shema), the 'less is more' philosophy of Mies van der Rohe, and clips from popular culture will be featured (especially music videos and creative documentaries). Good art, combined with good science, can communicate powerfully to the heart of our civics.
The least you can do is know a bit about the world
PEACE Club
The Kiva (Marbeck Center)
The aim of this presentation is to educate Bluffton students and faculty about current world issues. We will have tables/stations set up around the room with visual aid and a presenter at each spot. There will be 6-7 presenters/stations and attendees will walk around the room and learn about a different country and issue/event at each station.

1 p.m.

Economics of Simplicity
Johnathan Andreas' Labor Economics Class
Centennial 211
Seven students will present an economic analysis of simplicity and give advice for how we can use these principles to live happier, more secure, more connected lives.
Issues in Education
Education students
Stutzman Lecture Hall
Might there be simple answers to complex problems? Finding the essence of critical issues in education - 3 presentations about critical issues in education by students who previously took issues in education.
Community Task Force: Campus farm
Science Club
Kreider Room
Meghan Ream, Ben Heck and Zac Nobis would like to present the Community Task Force project that was constructed in the fall of 2021. This consists of a campus farm proposal with hoop houses, an apiary and an orchard. It would also include a proposed sustainable agriculture major.
Talking Gen Z
Language Variation Class
Yoder Recital Hall
Explaining the slang and usage of Gen Z, along with the do's and don'ts. Come and test your knowledge or watch your professors get stumped.

2 p.m.

LGBTQ+ and the Four Values of Bluffton University
Brave Space
Stutzman Lecture Hall
Discussing how the core values of Bluffton University tie into being an ally to LGBTQ+. We will discuss topics such as respecting pronouns, name changes, safe spaces, etc.
Culture reconsidered: Towards minimalism and harmony
Chris Morrisey's Anthro Soc Class
Centennial Hall 211
Anthropology students are conducting research projects on culture, near and far, examining important questions for good living. Here you can hear their questions and their thoughts as they ask you to chime into the conversation.

3 p.m.

One T-shirt at a time: My journey away from fast fashion
Marathana Prothro
Stutzman Lecture Hall
This self-reflective presentation will share of my story of how a Bluffton screening of Cotton Road, a documentary about global supply chains and the fast fashion industry, changed my relationship with my clothes and the people who make them. I'll share key discoveries, struggles, and tips for crafting and maintaining a minimalist wardrobe.
How Riley v. California (2014) informs us on Modern Minimalism
Grace Branson and Braxton Lint
Centennial 211
In the recent Supreme Court case, Riley v. California (2014), in an unanimous decision for Riley, the court ruled that cell phones were no longer able to be searched incidental to a lawful arrest, because the character of a cell phone. We will discuss how the cell phone has enabled us to collapse our lives into the palm of our hand. We hope for a spirited discussion of the pros and cons of this development.

9 p.m.

Denim Day
The Social Work Club
Bob's Place
A short presentation with discussion questions on the topics of sexual assault and the meaning of the word consent. Denim Day is an international day to that was created to educate people about sexual assault and to try to combat victim blaming.