Conference and event services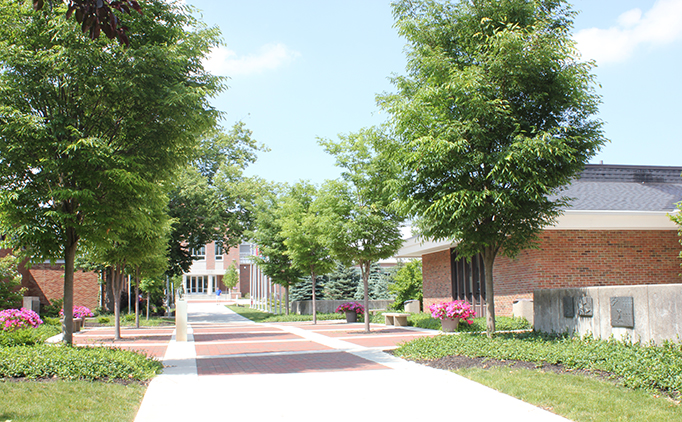 Whether you are looking for a place to hold your meeting, wedding reception, family reunion or even a week-long athletic or band camp, Bluffton University has what you need!
Nestled in the quiet community of Bluffton, along the banks of the Little Riley creek, the beautiful wooded campus provides a wonderful, relaxed setting for your meeting, reception or event. Our professional staff is prepared to assist in all phases of your conference planning. We will help custom tailor a conference package to fit your organization and our friendly, competent staff is available to personally assist in making your conference, meeting or reception a successful one.
We offer services and spaces for band camps, conferences and meetings, reunions and weddings and banquets. For more information, email marbeck@bluffton.edu or call 419-358-3217.
FACILITIES
We offer full-service conference and meeting facilities. Our conference rooms and facilities can accommodate your meeting, banquet or wedding reception. We can provide tables, chairs, sound, podium, TV/VCR, overhead, slide & video projectors, internet access, screens, dry erase boards, flip charts, easels, dance floor or whatever else it takes to make your program a success. We can also provide conference services in our 300 seat Yoder Recital Hall or in our state of the art classroom building, Centennial Hall. Founders Hall and Sommer Center are available for athletic events, concerts or other large events.
SUMMER CONFERENCE PROGRAM
Our summer conference program offers accommodations and facilities for groups of 7 to 700. We can provide a great place for your church camp, band camp, athletic camp, family reunion or group conference. Overnight conference groups are housed in the large well-kept rooms in any of our seven residence halls.
Band camps


Bluffton can host groups from 30 members to 150. Small spaces both indoors and out provide ideal locations for sections to practice new music. We have four fields for marching practice, each of them lined by an OHSAA-certified official. Scaffolding is provided at midfield for band director and select staff member use.
Overnight accommodations on campus in our residence halls help build bonds between band and flag corps members. Residential facilities can vary in terms of amenities available, and air conditioning is available in select residence halls.
There are opportunities both on-campus and in town for recreational activities. Our dining hall doubles as a ballroom for end-of-camp dances. Facilities are available for late-night pizza and movies.
Band camp rates are reasonable and all meals are provided on campus by Bluffton University Dining Services. Menus are available in advance and dining services staff can work with individuals with special dietary needs.

Conferences and meetings


Whether your group is a small weekend academic meeting or a week-long retreat complete with joint sessions as well as small group breakouts, we have the experience and facilities to make your conference a success. Marbeck Center is the main operations center during our conference program. It includes dining and banquet facilities along with several meeting rooms with furniture that can be configured to fit your needs.
Centennial Hall consists of classrooms of various sizes, each with full technological capabilities. The large lecture hall features tiered seating for more than 140 guests, while other classrooms have movable seating from eight to 40 guests. Yoder Recital Hall is our largest performance & lecture venue, with seating for 300. It is ideal for large group worship or lecture presentations. In addition, it has a technological capabilities built in and is acoustically sound. In fact, multiple performers from the national circuit have remarked on the superb sound and beauty found inside Yoder.
During the summer months, overnight housing for your conference guests is available in our on-campus facilities. Amenities differ from building to building but all include free in-room network access, recreational lounges, small meeting spaces, and professional security. Air conditioning and workout facilities are available in several residence halls as well.
Reunions

Let Bluffton University host your next family reunion. Whether it s a group of 15 or 150, we have the facilities and capacity to make your reunion one they'll remember for years to come! Generally during the summer months, family reunions enjoy a chance to live together in a residence hall, take advantage of campus and local recreational activities, and reconnect in a faith-based environment.
Our residence hall facilities offer full kitchen spaces, activity and conference rooms, recreational areas and more. Groups are welcome to take advantage of our campus facilities including a late-night game room, gymnasiums and our large nature preserve and cabin.
Meals are provided by Bluffton University Dining Services, who has experience working with individuals with special dietary needs.


Weddings and banquets


In addition to a full-service reception facility, Bluffton boasts several unique areas on campus that have been used for wedding ceremonies, rehearsal dinners and more. Our campus green has hosted several wedding ceremonies in recent years while dining services staff members prepared our banquet room for the arrival of guests on a quick stroll up the sidewalk to the reception.
Catering services are provided by the professional staff with Bluffton University Dining Services, who have the ability to combine our own resources with those of our sister colleges in the area in order to provide a high level of quality and value to your reception. Our catering manager has experiences working with numerous couples and families to ensure all aspects of your reception are coordinated with each other.
In addition to hosting wedding ceremonies and receptions, Marbeck Center has several rooms of various sizes that are perfect for campus and community banquets. Whether you're looking to entertain a small group of 20 or serve an organization of 200 or more, our facilities and catering staff are prepared. Room rates are reasonable and include any technology and A/V needs you may have.
Contact our conferences staff via email marbeck@bluffton.edu or call 419-358-3217 to find out how we can best meet your needs. Rates for facility use are competitive and all-inclusive.