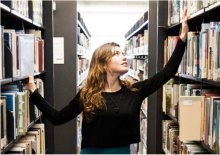 chat loading...
Library Collections
Where is it? A Guide to Locating Library Collections
Use this guide to check the physical location of various collections found in the library's catalog.
New Materials
See a list of items recently added to library collections.
Archives & Special Collections
Musselman Library is home to the Bluffton University Archives and a number of other special collections.
Bluffton University Memory
Visit our online digital archives of Bluffton University History. Includes photographs, issues of the Witmarsum, and more...
Curriculum Resource Center
Teacher education students, student life staff, and all of our users can benefit from the materials and project tools located on the fourth floor in the CRC.
Genealogy Resources
Find out more about our family history research collections.
Lion & Lamb Peace Arts Center
Learn about Bluffton University's peace resource center, which includes a library of children's literature devoted to peace-related topics. These materials appear in the library catalog.
Mennonite Collections
Learn about our collections related to Mennonite history, theology, and culture.
Make a Suggestion
Do you have a suggestion for something the library should purchase for its collections? Make your suggestion here.