Faculty/Staff Service Award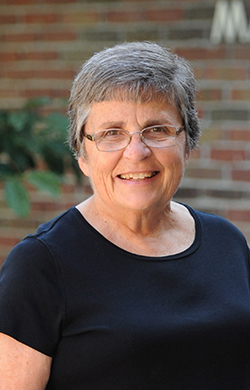 The Faculty/Staff Service Award recognizes a former Bluffton faculty or staff person (alumnus or non-alumnus) who during his or her time on campus fostered a spirit of community through personal relationships with others. This individual provided mentoring and inspiration to students, guiding them down their life's path.
2015 recipient:
Marcia Gallant
served as Marbeck Center administrative assistant
and student supervisor from 1984 – 2012.
>>> more about Marcia...

Past recipients:
Suzie Knudson - 1988
Ada L. Litwiller - 1988
Howard D. Raid - 1989
A C Burcky '22 - 1989
Carl Lehman '52 - 1990
Luther Shetler - 1990
Delbert Gratz '42 - 1991
Earl W. Lehman '44 - 1991
Dale Dickey '50 - 1992
Robert Flick - 1992
Margie Closson - 1993
Darvin R. Luginbuhl '46 - 1994
Robert Suter '63 - 1995
Leland C. Lehman '42 - 1996
Burton Yost '49 - 1997
Mary Bertsche - 1998

Elizabeth A. Hostetler '68 - 1999
Fred Amstutz - 2000
Gene Caskey - 2001
Paul King '57 - 2002
Donald Pannabecker '58 - 2003
Dr. J. Richard Weaver '42 - 2004
Dr. Donald Schweingruber - 2005
The Rev. Dr. Mark H. Houshower '42 - 2006
J. Denny Weaver - 2007
Linda Suter - 2008
Mary Ann Sullivan - 2009
Dr. Stephen Jacoby -2010
Betty Sommer - 2011|
Christine Purves - 2012
Ronald L. Friesen - 2013
Marcia Gallant - 2015