Current students
What's happening on campus

Beavers All! Get to know bluffton's Community
Tyler Rotstein '18
Tyler Rotstein, a junior business administrator major and football player, is competitive on the track, although this track is the horse race track. Full story<<<
Graduation School Fair
For those students looking to further their schooling and attend Graduate School, the Center for Career and Vocation is putting a Graduate School Fair on Sept. 22 from 11 a.m. - 1:30 p.m. in Marbeck. There are currently 18 schools registered with some still to come, so if you're interested please email career@bluffton.edu to register.
Campus Events happening next week

forum, Sept. 20
"Juveniles and the Law: The Puzzle"
The Honorable Glenn H. Derryberry, judge of the Allen County probate and juvenile courts
11 a.m. Yoder Recital Hall.
Chapel, Sept. 22
"How can I know God's will for my life?" Colossians 1:9-14
Stephen "Tig Intagliata, campus pastor and Timothy Bender, first-year student
11 a.m. Yoder Recital Hall
Artist Series, Sept. 22
Akropolis, tickets required
7:30 p.m. Yoder Recital Hall
Graduate School Fair, Sept. 22
11 a.m. – 1:30 p.m. Marbeck
Colloquium, Sept. 23
Whose land is this anyway?: Mormons and land reform in Mexico
Rebecca Janzen, Ph.D., assistant professor of Spanish
4 p.m. Stutzman Hall
student Billing policies
Choose your payment plan for 2016-17 and learn more about Bluffton's billing and refund policies.
>>> Student billing
Life after Bluffton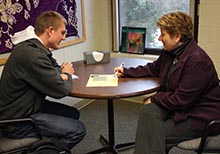 New student forms
In an attempt to make the paperwork a bit easier, all the forms you'll need are compiled on one webpage.