Current students
What's happening on campus
Be A Beaver Triathlon!
Register now for the Be A Beaver Triathlon – a fundraiser for the cross country and track and field teams – on May 31. Starting at the Bluffton Community pool with a 400m swim, then transition to a 20k bike and finish up with a 5k run, you can compete as an individual or with friends as a team. Register by May 5 at http://www.3disciplines.com/Events/Be-A-Beaver-Triathlon/
BEAVERS ALL!
As many Bluffton students prepare to leave for cross-cultural experiences, Rudi Kauffman and his family are readying for one of their own. >>>Beavers All
In Memory of Cecilia Rittenhouse
On March 24, 2014, Cecilia Rittenhouse of Bryan, Ohio, passed away from an apparent heart attack prior to class. Cecilia was seven weeks away from completing her BA degree in Organizational Management. Cecilia was a unique student as she returned to college at the age of 70 after being laid off as a result of the plant closing. After working for 48 years in various administrative/office capacities Cecilia was not ready to retire and chose to return to college to earn a bachelor's degree to better prepare her for finding her next job. She demonstrated great determination and grit and she was an inspiration to her classmates and all that knew her. She would have been 72 years old three days after graduation and had learned the day before her passing that she was going to be offered a job. On Sunday, May 4 a memorial tree planting ceremony will be held and her diploma will be given to her son during graduation.
Education Matters!
To kick off the 2014-15 Civic Engagement Theme, first-year students will read What the Best College Students Do. The author, Ken Bain, will speak at opening convocation on Aug. 28.
Career and vocation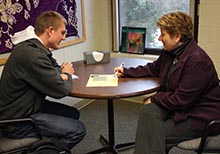 The
Center for Career and Vocation
is not just for seniors! Contact us for guidance throughout your collegiate experience and beyond, from exploring majors to starting your career.
student billing info
Rather than sending the Student Billing Packet via USPS this summer, we are saving trees and making billing information, payment plan Form A and student insurance waiver form available online.