Current students
What's happening on campus?
English Festival Forum, Nov. 13
"'Sweet and Low:' A Reading with Nick White"
Dr. Nick White, assistant professor of English, The Ohio State University
11 a.m., Yoder Recital Hall
Chapel, Nov. 15
"TBD: To Be Determined" (this is really the title) Lamentations 3:22-24
Tovah Wilson, hall director of Hirschy Complex, graduate assistant for residence life
11 a.m., Yoder Recital Hall
Harvest Dinner nov. 15
Bluffton University Nutrition Association (BUNA)
5-8 p.m., Bluffton Middle School cafeteria
Donations benefit Bluffton food pantry and Churches United Pantry
Gratitude Journals
In the spirit of thanksgiving, The Campus Ministries team has put together a Gratitude Journal with daily devotions during the month of November. The devotions—which include a daily quote or scripture and reflection questions—were written by the student pastoral assistants, several ministry assistants and Campus Pastor Stephen "Tig" Intagliata. Faculty, staff and students are welcome to pick up a journal at The Spot on Thursday or Friday, at the table across from the Marbeck Center desk, or in the Student Life office (Riley Court, Schultz Hall). Stephen "Tig" Intagliata, campus pastor (11/15)
Your wellness
There are many resources available to you during the academic year. Counseling services are free to students, and appointments may be scheduled from 8 a.m. to 5 p.m. >>> details
We are Beavers All!
Get to know Bluffton's faculty, staff and students…
Quincy Salcido '19
Besides walking across the stage with a diploma in hand, Quincy Salcido already has a plan for graduation day. The senior from Van Wert, Ohio, is getting a picture with all of the people who have helped him succeed at Bluffton University. That way, he can always keep near a reminder of their encouragement and tough love.
student Billing policies
Choose your payment plan for 2018-19 and learn more about Bluffton's billing and refund policies.
>>> Student billing
Life after Bluffton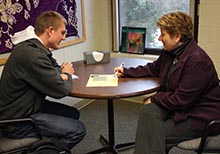 New student forms
In an attempt to make the paperwork a bit easier, all the forms you'll need are compiled on one webpage.