Current students
What's happening on campus?
Home athletic events
Baseball vs. Wilmington (double header), 1 p.m. March 17
Softball vs. Otterbein, 3:30 p.m. March 14
Softball vs. Heidelberg, 3 p.m. March 15
Celebration of women's voices
March 13, at 4 p.m., is the annual Celebration of Women's Voices event in the Reading Room of the library. Speakers will include both students and members of the Bluffton community.
SENIOR EXHIBITION
Senior art students Amanda Diller, Tyler Frank, Miriam Fike, Alissa Hauke, and Chase King will showcase their work in an exhibit from March 12 - March 28 in the Grace Albrecht Gallery. A reception will be held Sunday, March 18, from 1- 3 p.m.
President-elect on campus
Dr. Jane Wood will be on campus at 4 p.m. on Monday, March 19 for her public introduction as President-elect. Students are invited to help welcome Dr. Wood and her husband, Wayne McGaugh.
Naomi Brenneman prize 2017-18
In honor of Naomi Brenneman, professor of English at Bluffton College from 1918-1961, alumni and friends have established a fund to recognize the outstanding research and/or interpretive essay on a literary topic. A prize of $75 will be awarded to the winning essay! Email your essay to Jeff Gundy at gundyj@bluffton.edu by March 30.
Academic Award
Students who have written a research paper as a result of regular coursework in humanities (English, history, language and religion) and social sciences (criminal justice, psychology, social work and sociology) are eligible to submit it for the chance to receive an award for best research paper by the John D. Unruh Memorial Fund. Up to two $200 awards will be granted this academic year. Submit an electronic copy to Alex Sider (siderja@bluffton.edu) by 5 p.m., Monday, April 2, 2018.


Bluffton beaver Day!

Friday, April 6 is the day to represent! Wear your purple or favorite Bluffton gear to celebrate the many roles Bluffton Beavers play.
Take a group photo of family, co-workers and/or friends to share on: Bluffton's Facebook page, Tweet it to @blufftonU, post on www.instagram.com/blufftonuniversity/ or email it to webmaster@bluffton.edu.
- hashtag #BeaversAll
>>> more


We are Beavers All!

Micah Hunsberger has spent three consecutive summers furthering his knowledge of computer programming through paid internships at Tempus Technologies in Auburn, Ind.
>>> Micah's story

Learn more about Bluffton's IT major and computer science minor.
student Billing policies
Choose your payment plan for 2017-18 and learn more about Bluffton's billing and refund policies.
>>> Student billing
Life after Bluffton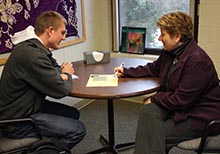 New student forms
In an attempt to make the paperwork a bit easier, all the forms you'll need are compiled on one webpage.