Current students
Whats happening on campus

Art Exhibit and reception
Nov. 12- Dec. 15 "Eclectic Works on Paper," exhibit by print-maker Dexter Davis is on display in the Grace Albrecht Gallery in Sauder Visual Arts Center.
The reception will be 1-3 p.m. Nov. 12.
Thanksgiving dinner, Nov. 16
5-7 p.m. Thursday, Commons Thanksgiving Dinner
Concert, Nov. 16
Liebermann Titus Duo, contemporary compositions for piano and saxophone by new faculty Dr. Andrew Liebermann and Stephanie Titus, 7:30 p.m., Yoder Recital Hall.
Colloquium, Nov. 17
At 4 p.m. in Stutzman Lecture Hall, "The Regulation of Internet Communication in Conservative Mennonite Conferences and Fellowships" will be presented by Dr. Gerald J. Mast.
student Billing policies
Choose your payment plan for 2017-18 and learn more about Bluffton's billing and refund policies.
>>> Student billing
Life after Bluffton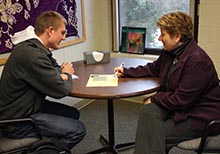 New student forms
In an attempt to make the paperwork a bit easier, all the forms you'll need are compiled on one webpage.