Current students
What's happening on campus

Graduation Schedule
Be sure to check the spring 2016 graduation schedule for the dates and times for all the events and ceremonies for May 6-8. >>>more
Library research Assistance
Musselman Library has a new service called PAWS (Personalized Assistance With Searching). It aims at helping students get the research assistance they need. For more information or to set up an appointment visit the the PAWS website.
Kit Guides 2016
Are you an enthusiastic, fun, friendly, caring and knowledgeable Bluffton students or do you know someone who is? Consider becoming a Kit Guide. Kit Guides assist with the many different aspects of Bluffton's summer orientation/registration program. For more information email Mark Bourassa. Additionally, applications are available at the Marbeck Center Information desk.

student Billing policies
Choose your payment plan for 2016-17 and learn more about Bluffton's billing and refund policies.
>>> Student billing
Life after Bluffton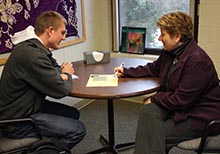 New student forms
In an attempt to make the paperwork a bit easier, all the forms you'll need are compiled on one webpage.