Current students
Whats happening on campus
Athletics Hall of Fame, Feb. 18
2007 baseball team to be honored
7 p.m. Founders Hall
Winter Instrumental Concert, Feb. 19
The Music Department will present the University Concert Band
2:30 p.m. Yoder Recital Hall.
Next week
Guest Recital, Feb. 24
Kate Boyd, pianist
7:30 p.m. Yoder Recital Hall
Colloquium, Feb. 24
Dr. Sherri Winegardner
Health Care: Is it a System? A Systems Thinking Concept Analysis and the Role of the Nurse
4 p.m. Stutzman Lecture Hall
Masterworks Concert, Feb. 26
"Gloria" by Antonio Vivaldi
Performances by performance scholarship competition finalists.
University Chorale
Bluffton Choral Society
2:30 p.m. Yoder Recital Hall
student Billing policies
Choose your payment plan for 2016-17 and learn more about Bluffton's billing and refund policies.
>>> Student billing
Life after Bluffton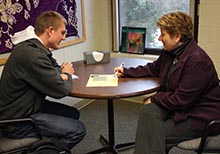 New student forms
In an attempt to make the paperwork a bit easier, all the forms you'll need are compiled on one webpage.