Current students
What's happening on campus

Graduation Schedule
Be sure to check the spring 2016 graduation schedule for the dates and times for all the events and ceremonies for May 6-8. >>>more
Camerata CDs
Camerata Singers has produced a new CD of their 2015-16 repertoire: Songs of Praise and Love. CDs are $15. Contact Mark J. Suderman, (ext. 3364). All sales go directly to Camerata Singers expenses.
Bluffton Literary Magazine
A product of much student labor, "Shalith," Bluffton's literary magazine, are in the Bookstore as well as the English Department on the third floor of Centennial Hall. Be sure to pick up your own copy to share with friends and family.

student Billing policies
Choose your payment plan for 2016-17 and learn more about Bluffton's billing and refund policies.
>>> Student billing
Life after Bluffton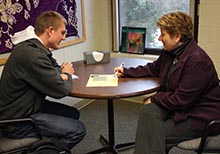 New student forms
In an attempt to make the paperwork a bit easier, all the forms you'll need are compiled on one webpage.