Current students
Spring Semester 2017 move-in
Classes begin on Wednesday, Jan. 11, 2017
Students that are moving into new rooms or helping students move into new rooms are allowed to return starting at 10 a.m. Monday, Jan. 9.
All students will be allowed to return to campus at 10 a.m. Tuesday, Jan. 10, 2017
What's happening on campus
The Commons Christmas Dinner
The dinner will be from 5-7 p.m. Wednesday, Dec. 7, in The Commons. The Commons will be closed from 2-5 p.m. for set up on that day. The appetizers include vegetable crudité, cheese ball, shrimp cocktail and hot wassail. On the rest of the menu is a ham carving station, chicken supreme, an assortment of sides, Christmas cookies and ice cream.
Women's Basketball, Dec. 7
Vs. Earlham
7:30 p.m. Copeland Court
Finals Breakfast!
The annual tradition of Finals Breakfast continues with the 2016 rendition of this student favorite. As is customary, we invite faculty and staff to volunteer their efforts to serve food and drinks, bus table, and provide entertainment throughout the evening. The date and time for this year's event is 10 p.m. Tuesday, Dec. 13.
Campus Events happening next week
"A Festival of Lessons and Carols," Dec. 11
2:30 p.m. Yoder Recital Hall
Camerata Singers and University Chorale
Tickets required
Alternative Christmas
Marbeck Kiva from 4-7 p.m. on Wednesday, Dec. 14. Ten Thousand Villages will have fair trade items for sale. This is an opportunity to purchase Christmas gifts which help create jobs and better living conditions for workers around the world.
7 p.m. on Thursday, Dec. 8 in Stutzman Lecture Hall.
student Billing policies
Choose your payment plan for 2016-17 and learn more about Bluffton's billing and refund policies.
>>> Student billing
Life after Bluffton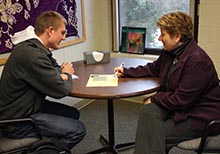 New student forms
In an attempt to make the paperwork a bit easier, all the forms you'll need are compiled on one webpage.