Current students
What's happening on campus?
Office 365 has arrived!
Students... good news from the Campus IT department. All traditional student emails have been migrated to the new Office 365. Non-traditional student accounts are next on the list. To access your email, please visit https://www.bluffton.edu/email.
Marbeck After Dark: Story Slam
Friday Sept. 21, 9 pm, Bob's Place
Student Life Division Residence Hall Eating Contest
Saturday. Sept. 22, halftime of the football Game
Winners will win pizza for their hall so come root on the team as well as your representative!
Sunday Night Worship


Sunday, Sept. 23, 8:30 p.m.,
Yoder Recital Hall
FAST FOOD BINGO
,
Bob's Place
Monday, Sept. 24, 12:30 p.m. and 9:30 p.m.
Round 1 and 2 on Bingo Monday's. Play Bingo to win some food fast!
60 in 6 Weeks!
The 60 in 6 seeks to guarantee at least 60 campus events in the first six weeks of the academic year. The six weeks begins with first-year move-in day and concludes on Saturday, Oct. 13. Check out the events >>>

Get involved
Did you know there are over 60 different student activities and organizations you can join on campus?
Your wellness
There are many resources available to you during the academic year. Counseling services are free to students, and appointments may be scheduled from 8 a.m. to 5 p.m. >>> details
We are Beavers All!

"I got a feel for what doing graphic design full time is like which was really beneficial. It's nice to get the experience before I graduate. I learned a lot and it's a little extra verification that this is what I want to do when I graduate."
>>> Emily's Story
student Billing policies
Choose your payment plan for 2018-19 and learn more about Bluffton's billing and refund policies.
>>> Student billing
Life after Bluffton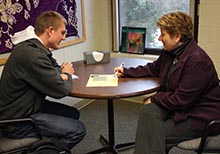 New student forms
In an attempt to make the paperwork a bit easier, all the forms you'll need are compiled on one webpage.