Current students
Whats happening on campus
Forum, March 28
Civic Engagement Day Forum
"Beauty is Something to Love"
Dr. Jeff Gundy
11 a.m. Yoder Recital Hall
Civic Engagement Day, March 29
C. Henry Smith Peace Oratorical Contest, March 29
6 p.m. Yoder Recital Hall

Chapel, March 30
"How has my faith been shaped and challenged at Bluffton?"
Senior students Mary Bender, Kati O'Neill, Daniel Piero, Connor Samuel
11 a.m. Yoder Recital Hall
John D. Unruh Award
Win $100 for your humanities and the social sciences research paper. The paper should result from regular course work taken at Bluffton between April 1, 2016 to April 1, 2017. Papers completed as part of an honors project or independent study will not be accepted. However, Senior Seminar papers are eligible. Each paper will be evaluated in terms of originality, research, and clarity of expression. Any currently enrolled student is eligible. Submit a copy of the paper to Randy Keeler (office Smucker 305, Marbeck box 145) by April 1, 2017.
Musical Performance Preview
Bluffton will be holding a free preview of "Sondheim on Sondheim" musical revue for all current students on May 4 at 7:30 p.m. in Yoder Recital Hall.
student Billing policies
Choose your payment plan for 2016-17 and learn more about Bluffton's billing and refund policies.
>>> Student billing
Life after Bluffton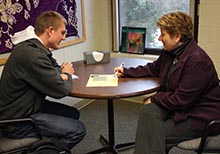 New student forms
In an attempt to make the paperwork a bit easier, all the forms you'll need are compiled on one webpage.