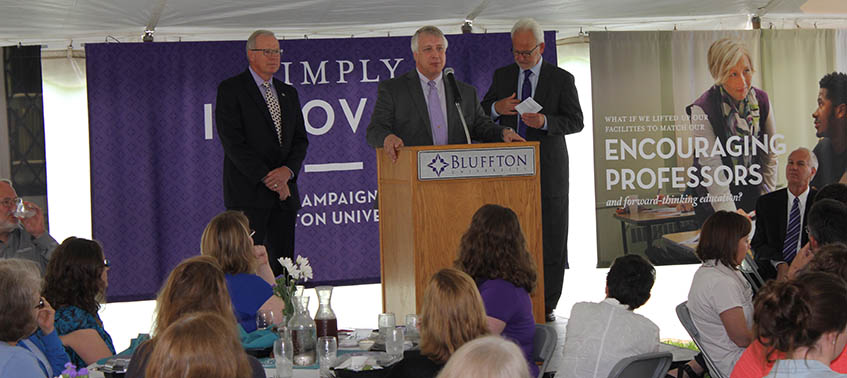 Campaign leadership team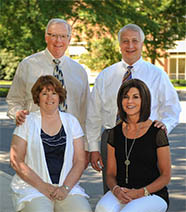 The campaign will be led by volunteer campaign co-chairs and university trustees Greg Wannemacher and Dave Baumgartner.
Greg graduated from Bluffton in 1977 with a degree in business administration and secondary education. His wife, Donna, graduated from Bluffton in 1978 with an art degree. Greg is chairman of Wannemacher Total Logistics, a packaging, warehousing and distribution business in Lima.
Dave, an attorney in Berne, Ind., is a 1982 Bluffton graduate with a degree in business and economics. His wife, Tanya, graduated from Bluffton in 1983 with a degree in education. Dave is a partner in the law firm of Baumgartner & Beitler, in Berne, where he specializes in estate planning, real estate, corporations, taxation and banking.
Dave Baumgartner, JD '82
Campaign Chairperson, Trustee
Baumgartner Attorneys

Greg Wannemacher, '77
Campaign Chairperson, Trustee
Owner, Wannemacher Total Logistics

Murli Buluswar '91
Chief Science Officer
AIG

Bethny Ricks Brown '06
Vice President, Human Resources
Scotts Mircale-Gro Co.

Michael Edmiston, Ph.D. '72
Professor Emeritus of Chemistry and Physics
Bluffton University

Cheryl Hacker, JD '81
General Counsel to the President
Shawnee State University

Marvin Hall, Ph.D., '77
Professor of Forage Management
Penn State University

John Kraft, MD, '58
Physician, retired

Christine O'Neil '81
Registered Nurse

Verne Schirch, Ph.D. '58
Professor of Biochemistry, retired
Virginia Commonwealth University

Christina Sherry, Ph.D. '04
Senior Nutrition Researcher
Bell Labs

David Yost, MD, MSc '83
Field Officer
U.S. Public Health Service

Kent Yoder '78
Chairperson
Bluffton University Board of Trustees

James M. Harder, Ph.D.
President
Bluffton University

Hans Houshower '74, Ph.D.
Vice President for Advancement
Bluffton University