History department
Historians need a variety of skills to effectively interpret the past to the present. They must be critical thinkers, excellent writers and adept oral communicators. They need to analyze and evaluate historical data, and come up with interpretations of their own which are consistent with the evidence they have uncovered.
At Bluffton, you will develop each of these skills and more with the help of Fulbright scholars, published authors and historians teaching your classes and preparing you for your next steps. In addition, our history professors approach the study of history in conversation with the university's Mennonite peace church heritage.
MAJORS ARE OFFERED IN:



* This major can be completed in 3 years.

MINORS/PROGRAMS ARE OFFERED IN:
Want to learn more about Bluffton?
Alumni build on the past
Bluffton alumni have taken their history degree many different directions: education, law, library science and more.
>>>tell me more
Pre-law minor

Bluffton's pre-law minor emphasizes the historical, political, social and economic foundations of society, while providing you with the skills you need in research, writing, communication, critical thinking and conflict transformation.
Fulbright Scholar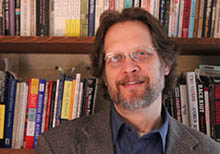 Learn from a Fulbright Scholar. Dr. Perry Bush taught American studies in southeastern Ukraine through the Fulbright Scholar program.
>>> tell me more