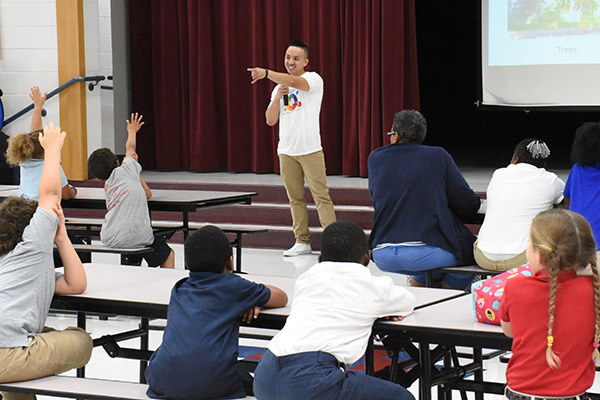 ---
"We're trying to promote health by getting these kids to eat more fruits and vegetables. Good nutrition definitely starts with the youth" -Joshua Becasen
Internship overview and details
Bluffton's ISPP is part of the Nutrition and Dietetics Department. Our interns are considered Bluffton University students and may take advantage of student resources and attend events on campus, which are often free for students. We are not a distance internship.
An emphasis on Community and Public Health Nutrition based on the demographics of our surrounding community, which includes both rural and urban population settings.
A full-time experience coordinator is responsible for establishing supervised practice sites, orienting preceptors and ensuring that interns meet the necessary competencies as required by ACEND.
Curriculum includes a professional development aspect to help interns develop organizational and leadership skills, and to encourage life-long learning and professional involvement. Course requirements and descriptions
Rotations in a variety of areas of practice, including clinical inpatient and outpatient, nutrition support, renal services, food service management in patient, institutional and school settings as well as several community rotations within an hour's radius of campus.
Program includes class and conference days, on-line learning and resources, as well as an RD exam review course. Interns who complete all the required elements of our program are awarded 18 hours of graduate credit which may be transferable to other institutions based on university guidelines.
ISPP interns may serve with Mennonite Disaster Services for a two-week rotation at one of a variety of sites around the United States. The coordinator may work with interns to plan elective experiences and enrichment opportunities specific to their interests and career goals.
This ISPP does not grant credit for prior learning experiences received outside of Bluffton's planned supervised practice program.


Details
ENROLLMENT:
10 interns per year.
PROGRAM LENGTH:
9 months (Aug. 23, 2021 - May 20, 2022 - tentative) 40 hours/week
EMPHASIS:
Community and public health nutrition
CREDIT:
18 hours of graduate level credit for practicum experiences (nine in fall, nine in spring)
EXPERIENCE COORDINATOR:
A full-time experience coordinator arranges didactic experiences, recruits and schedules supervised practice sites and preceptors, helps develop rotation experiences that meet competency requirements, plans meaningful education activities for interns and serves as their advisor.
CAMPUS COMMUNITY:
Enjoy access to the technology center, fitness center and sports activities, Center for Career and Vocation, library, financial aid, student health, and counseling services. Interns may participate in campus-sponsored educational, recreational and spiritual activities.


Costs and financial aid
Application fee (non-refundable, $50 prepaid)
Tuition includes 18 hours graduate credit and 3-day RD exam review course ($16,000)
Technology fee ($125 per semester, $250 total)
Campus parking permit ($25 per semester, $50 total)

ADDITIONAL COSTS:
Academy of Nutrition and Dietetics student membership ($58)
Professional liability insurance ($25-$60)
BCI and FBI background check ($60)
Physical examination and completion of Bluffton intern physical form (varies)
Flu shot for current season ($25-$35)
Two lab coats (avg. $24-$60)
Books and supplies ($200-$400)
Food and Nutrition Conference and Expo (FNCE) student registration ($100-$200 estimated) PAID by Bluffton University *
Interns are expected to provide for their own health insurance, housing and living expenses and transportation to and from supervised practice sites (with the exception of travel to MDS site rotation).
* Interns will be offered the opportunity to attend FNCE each fall, through the Bluffton University internship, with the internship covering the cost of housing and transportation to the conference. Since the 2021 conference will be virtual, the university will cover the cost of intern registration.


FINANCIAL AID OPTIONS:
Students in the Bluffton dietetics internship are not eligible for federal loans, but students with existing federal loans are eligible for deferment while enrolled in the ISPP internship. Private loan funding is available through Education First Credit, Sallie Mae and Sun Trust, and may be available through other lenders. Apply through Bluffton's financial aid office, 419-358-3276.
Academy of Nutrition and Dietetics Foundation offers scholarships and grants for internship or graduate dietetics education. Applications are available online to AND members. Scholarships may also be available through state or local academy affiliates.
REFUND POLICY
Interns who withdraw prior to the first day of orientation are eligible for 100 percent refund of tuition and fees. For interns withdrawing after the first day of orientation and prior to the completion of the internship, refunds will be handled on a case-by-case basis through the office of adult and graduate studies.


Graduation requirements
To graduate from the dietetics internship and receive a Verification Statement, interns must demonstrate the knowledge and performance requirements for entry-level dietitians through a minimum of 1,200 hours of supervised practice and appropriate didactic experiences.
Interns must successfully complete all activities as assigned by the experience coordinator, or within each supervised practice rotation achieved a rating of "exceptional" or proficient" in all CRDN competency areas by the end of the program as rated by the final preceptor evaluating each competency area. Successful interns must also maintain Rotation Hours Verification records and Log of Conditionals and Populations served and complete Rotation/Preceptor Evaluation forms at the completion of each rotation.
For interns who complete the dietetic internship, a Registration Eligibility Application will be submitted to the Commission on Dietetic Registration to permit graduates to sit for the dietetic registration exam. Each graduating intern will also receive a copy of the Verification Statement and a Bluffton University Certificate indicating that internship requirements have been met. All interns have a maximum of 13.5 months to complete all requirements.
AVAILABLE BLUFFTON SERVICES
As Bluffton University students, dietetics interns have access to campus amenities and services including: