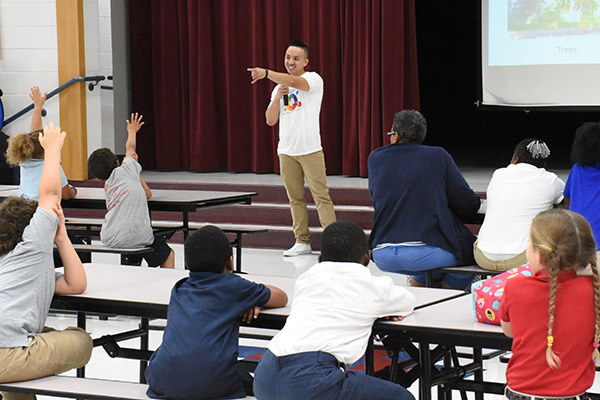 ---
"We're trying to promote health by getting these kids to eat more fruits and vegetables. Good nutrition definitely starts with the youth" -Joshua Becasen
Internship details
ENROLLMENT:
10 interns per year.
PROGRAM LENGTH:
9 months (Aug. 20, 2018 - May 24, 2019 - tentative) 40 hours/week
EMPHASIS:
Community and public health nutrition
CREDIT:
18 hours of graduate level credit for practicum experiences (nine in fall, nine in spring)
EXPERIENCE COORDINATOR:
A full-time experience coordinator arranges didactic experiences, supervises practice sites and preceptors, helps develop rotation experiences that meet competency requirements, plans meaningful education activities for interns and serves as an advisor.
CAMPUS COMMUNITY:
Enjoy access to the technology center, fitness center and sports activities, Center for Career and Vocation, library, financial aid, student health, and counseling services. Interns may participate in campus-sponsored educational, recreational and spiritual activities.
COSTS:
Application fee (non-refundable, $50 prepaid)
Tuition includes 18 hours graduate credit and 3-day RD exam review course ($16,000)
Technology fee ($100 per semester, $200 total)
Campus parking permit ($50. $10 additional for a second vehicle)

ADDITIONAL COSTS:
Academy of Nutrition and Dietetics student membership ($58)
Professional liability insurance ($25-$60)
BCI and FBI background check ($60)
Physical examination and completion of Bluffton intern physical form (varies)
Flu shot for current season ($25-$35)
Two lab coats (up to $80)
Books and supplies ($200-$400)
Food and Nutrition Conference and Expo (FNCE) student registration ($235-$275) plus meals*

Interns are expected to provide for their own health insurance, housing and living expenses and transportation to and from supervised practice sites (with the exception of travel to MDS site rotation).
*Interns will be offered the opportunity to attend FNCE through the Bluffton University internship, with the internship covering the cost of housing and transportation to Washington, DC. This is not a required activity.
Financial aid options
Students in the Bluffton dietetics internship are not eligible for federal loans, but students with existing federal loans are eligible for deferment while enrolled in the ISPP internship. Private loan funding is available through Education First Credit, Sallie Mae and Sun Trust, and may be available through other lenders. Apply through Bluffton's financial aid office, 419-358-3276.
Academy of Nutrition and Dietetics Foundation offers scholarships and grants for internship or graduate dietetics education. Applications are available online to AND members. Scholarships may also be available through state or local academy affiliates.
REFUND POLICY
Interns who withdraw prior to the first day of orientation are eligible for 100 percent refund of tuition and fees. For interns withdrawing after the first day of orientation and prior to the completion of the internship, refunds will be handled on a case-by-case basis through the office of adult and graduate studies.
AVAILABLE BLUFFTON SERVICES
As Bluffton University students, dietetics interns have access to campus amenities and services including: