Sharing the love of softball
01/02/2019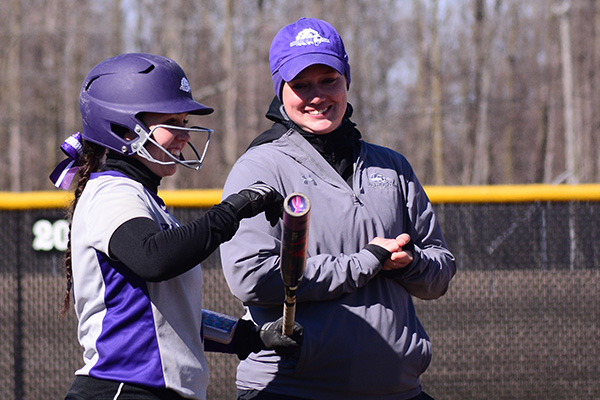 DeMoine shares life-long love of softball with student-athletes
In her first full season as head coach of Bluffton University softball, Amanda DeMoine is excited to share her knowledge of the game. "We really pay attention to details and explain the 'why' behind what we teach," said DeMoine of her coaching style with assistant coach Janel Hayes.
DeMoine has nine years of coaching experience, went to the NCAA championships as a DIII softball player and is ready to share her passion. "Softball has always been my sport. People say, 'Oh, I started playing when I was this age or that age.' I couldn't tell you what age I was when I started playing softball because I've always been out in the field, running around or keeping score. Softball is life."
Seven seniors on the team graduated in May and DeMoine calls her current group of student-athletes "small but mighty." She says they're working hard in the offseason to prove themselves this spring.
"They are all really good teammates. They really push each other and their closeness with their teammates drives them," DeMoine said. "They will call each other out, but they also make sure to support their each other through their struggles."
DeMoine understands being a student-athlete brings about many high-pressure situations, but she believes in offsetting this by having a little bit of fun at practice. It's one way she's establishing consistency within the program.
"We want our athletes to want to come to practice," explained DeMoine. "That eagerness, we get really good productivity out of it."
She's also excited for their spring break trip to Florida. The team will play 10 games in a span of six days. During the week, the team rents houses for the softball players to stay in and there is one off-day for the women to explore theme parks such as Disney World. The athletes and coaches also enjoy team bonding time with putt-putt and ice cream excursions. The team works hard fundraising in the fall to accomplish this trip.
"We're in Ohio. We know some of the players have never been on a plane and some have never been to Disney, so we want them to also experience being down there."
DeMoine played DIII athletics and she believes the small-college atmosphere brings about a more well-rounded experience for the athlete. For example, student-athletes are able to be involved in campus organizations or even play another sport at a school like Bluffton.
"There is some extremely good ball being played at the DIII. It's exciting and fun and competitive," said DeMoine.
But for DeMoine, the best part of playing softball in college—the relationships she developed with coaches and teammates.
"The relationships last a lifetime. It's something special," explained DeMoine. "Only a couple of my teammates are coaches, but others doing great things with their lives—nurses, firefighters, teachers. Most aren't doing softball and that's great about playing at DIII, those successes you have academically as a student-athlete that fuel your life outside of athletics."