Nursing degree: Challenging and rewarding
08/05/2019
Nursing student is ready to use her knowledge, quick-thinking skills
Abby Broseke '22, a nursing major from Kenton, Ohio, has her career goals set. After earning her degree from Bluffton University and working in an emergency department or trauma center, she plans to become a certified nurse practitioner for pediatrics. Her reason is clear.
"I had a brother who passed away when I was young, and I vowed that day that I would be the person who saved lives so that others wouldn't have to feel the pain that I felt," explained Broseke. "That was the moment when I knew that nursing is what I wanted to do."
"Bluffton's ideologies really match up with mine and the professors are great. They are here for you. They want you to succeed as a nurse."
Entering her second year of the nursing program, Broseke is ready to start clinical rotations through Bluffton's dual degree partnership with Northwest State Community College.
"I'm super excited to go into clinicals and work hands-on with patients," said Broseke. "I'm ready to do even more than I am now as an STNA and to continue learning."
This summer, Broseke is working as an STNA at The Good Samaritan Society, a nursing and rehabilitation center in Arlington, Ohio. She enjoys building relationships with the patients whom she describes as "a hoot and a half."
Last semester, she worked at Mercy Health St. Rita's Medical Center in Lima, Ohio, primarily in orthopedics; however, she most enjoyed getting pulled to the emergency department.
"All of the interesting things happen there. Gunshot victims, motor vehicle accidents…," explained Broseke. "I like the adrenaline and being the quick thinker who says 'I know what I have to do.'"
Broseke's aunt is a rapid resource nurse at St. Rita's and the two would process some of the more challenging situations together.
"It's definitely a challenging career," said Broseke. "There are times that you have to take a step back and take a deep breath."
She also knows that earning a nursing degree is a challenge in itself.
"Nursing school is not easy and working in the field is not easy, but I love helping people and it's also incredibly rewarding. Bluffton's ideologies really match up with mine and all of the professors are great. They are here for you, and they want you to succeed as a nurse," said Broseke.
Broseke chose Bluffton because of the level of support provided to students from faculty mentors.
"It's a new program but Sherri was super helpful in the transition from high school to college," said Broseke of Dr. Sherri Winegardner, director of nursing. "As the head of the program, she is really there for her students."
Broseke commuted to Bluffton during her first year, but plans to live on campus starting this fall. She's excited to attend more athletic events as a fan and will serve as the community and campus coordinator for the Bluffton University Student Nurses Organization (BSNO).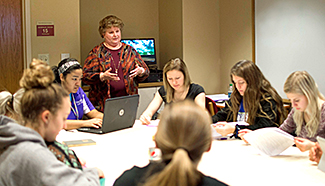 ---
Bluffton offers a 4-year BSN and a two-year RN to BSN degree program.