Coach and mentor
08/14/2019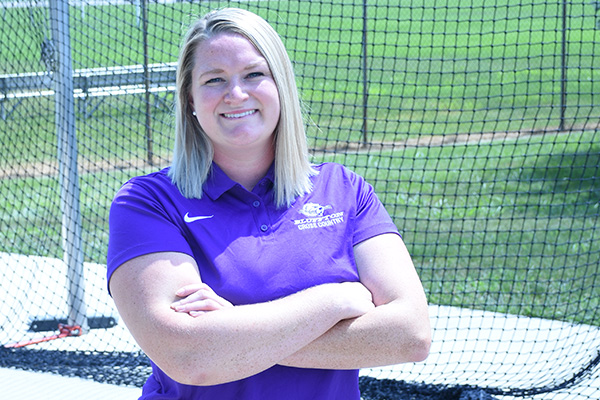 JACHNO SELECTED FOR NATIONAL FEMALE COACHING MENTORSHIP PROGRAM
Entering her second year at Bluffton University, Coach Kaylea Jachno is ready to mentor the next generation of athletes and coaches. She was recently selected to serve as a mentor for the U.S. Track and Field and Cross Country Coaches Association's (USTFCCCA) Female Coaching Mentorship Program.
"In the United States, across all disciplines of sport, the number of female coaches are dwindling," said Jachno. "This program is a way for female coaches to empower each other, by sharing their experiences and successes. We provide guidance, and in turn, aim to keep more female coaches in the sport."
According to the USTFCCCA, the program is designed to increase the representation, depth of knowledge and advancement of female coaches in the field.
Jachno, Bluffton's head track and field coach and coordinator for the cross country and track and field programs, was matched with an assistant coach in Alabama who, like Jachno, specializes in throws. The partnership lasts for one year with the mentors providing one-on-one monthly support. She acknowledges having additional female mentorship early in her career would have been helpful.
"Sometimes I undervalue myself. Even for this program, at first I wasn't going to apply, but I am one of the youngest female program directors in the history of track and field, and at the time I was hired, I was the youngest female track and field coach in the Heartland conference," said Jachno. "I'm still learning, and I will never stop learning, but advancing the sport and elevating other female coaches is something I'm passionate about."
Jachno will also serve as a moderator for a roundtable discussion on work-life balance during USTFCCCA's annual conference in December.
"DIII is highly underrepresented at USTFCCCA. There will be multiple women sitting at these tables speaking from their own experience," she explained. "It's the biggest track and field conference in the nation, and I'm happy to represent Bluffton as a place that supports and elevates female coaches. I am excited to guide coaches using my own experiences"
The passion Jachno has toward elevating female coaches also extends to her goal of building the Bluffton cross country and track and field teams.
After one recruiting cycle, the program now has more than 60 athletes. That's up from 30. Along with head cross country coach Logan Wells, who is entering his first season, Jachno is working to grow the program to 100-plus athletes and make Bluffton a true conference contender.
"Our goal during last year's cross country season was to get through the year as a healthy team and for our athletes to truly fall in love with the sport. During indoor and outdoor season, we worked on building a team culture that would create an atmosphere of champions," said Jachno. "They're getting used to a new style of coaching and for me it's all about accountability and competing for your teammates. Track and field is interesting because it's an individual sport, but no one person is bigger than the team."