Why a Bluffton MBA?
07/05/2017
A Bluffton MBA leads to increased responsibility, income for 2016 graduate
In 2014, Jenn Hiester MBA '16 made a leap of faith she has not regretted. After researching MBA programs for about six months, the nurse manager from Ada, Ohio, paid the deposit to enroll in Bluffton's Master of Business Administration program.
"I knew in the end getting my MBA from Bluffton would make me better at my job," said Hiester. "The question for me was, if I wait a year, what is going to change? So I decided I'm just going to do it now."
The decision paid off. A few months after graduating with her MBA from Bluffton, Hiester became the manager of perioperative services at Mercy Health St. Rita's Medical Center in Lima, Ohio.
"Every advancement I've made in education has brought me an advancement in my career and in my income. I knew I would make good return on my investment in Bluffton, and I did so within a year. I paid for my education with my job transfer."
Hiester says in nursing there are two ways to advance in the workplace. You either stay with patient care and move closer to the bedside or you move higher within the hospital's administration. Hiester decided to pursue the administrative route in order to influence health care policy from the top down. Her new role includes the increased responsibility of managing a large-scale department. It's a role she is comfortable in because of her Bluffton education.
"Bluffton's professors taught me the nonclinical side of my job, the management piece of it. How to be a leader," said Hiester, who appreciated learning alongside a diverse group of business people who were also pursuing their MBAs. "It was interesting to hear what other managers were doing in their industries. People are people everywhere, whether you are in a hospital setting or not, and discussions in class gave me a well-rounded perspective on management and leadership."
A working mom, Hiester was drawn to Bluffton's one-night-a-week class schedule, convenient location and small class sizes. "It was challenging. My oldest went into the Navy while I was in the program, and I was trying to be a good role model for my 16-year-old because she'll be going to college in a few years, and I was trying to be present for my 6-year-old as much as possible. I couldn't have done it without the support of my husband."
For Hiester, the challenge of earning her MBA was worth the outcome. "I love my job, I love being able to take care of patients and I love meeting the challenge of improving our patient's surgical experiences every day."
-B-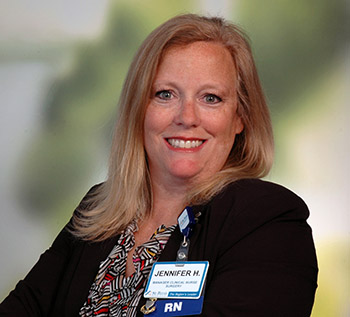 Jennifer Hiester
---
"Bluffton's professors taught me the nonclinical side of my job, the management piece of it. How to be a leader."