Bluffton Bread Company Spring Sales
04/06/2022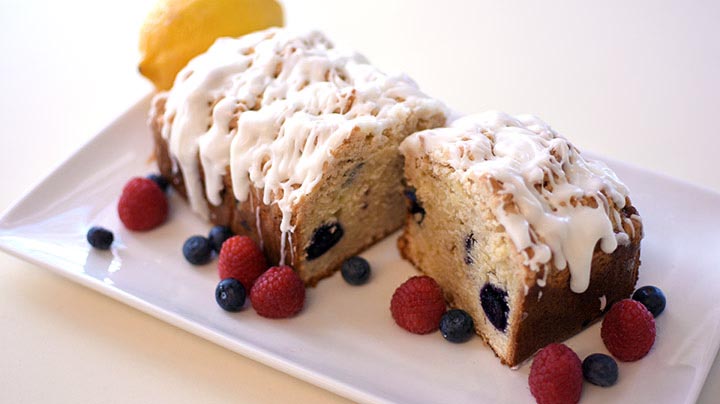 Bluffton Bread Company Spring 2022 sales
Bluffton Bread Company online sales are open for the spring season now through May 8, 2022.
From developing and standardizing recipes to streamlining the online shopping cart, Bluffton University students are gaining hand-on learning experiences with the Bluffton Bread Company.
Available now:
Lemon Blueberry: Nothing welcomes the long-awaited spring season like the flavor combination of lemon and blueberries. Our lemon blueberry bread was developed using old fashioned pound cake recipes and a modern twist—a decadent crumb topping and lemon glaze.
Asiago Cheddar: A savory choice, Asiago Cheddar bread combines the richness of asiago and cheddar cheeses with a hint of buttermilk. Literally packed to the brim with cheese, this loaf is surrounded by a crust of parmesan and cheddar. Sprinkled with a dash of cayenne, this bread is not too spicy, but instead will be a showstopper at any event.
Birthday: This birthday themed loaf will be sure to send warm wishes whether you are celebrating together or apart. A traditional, from-scratch, classic pound cake with true vanilla flavor, this bread is sure to invoke birthday memories of yesterday.
Bluffton Bread is made fresh to order, features specialty packaging and is available for shipping (for an additional cost) or pickup at Berky Hall on Bluffton's campus through May 8. Order by May 4 to ensure delivery for Mother's Day. A limited number of loaves are also available each week at Roots by Strattons (111 S. Main Street, Bluffton).
To learn more about the Bluffton Bread Company, sign up for sale notification emails or purchase bread, visit https://shop.blufftonbreadcompany.com.