Virtual concert
11/18/2020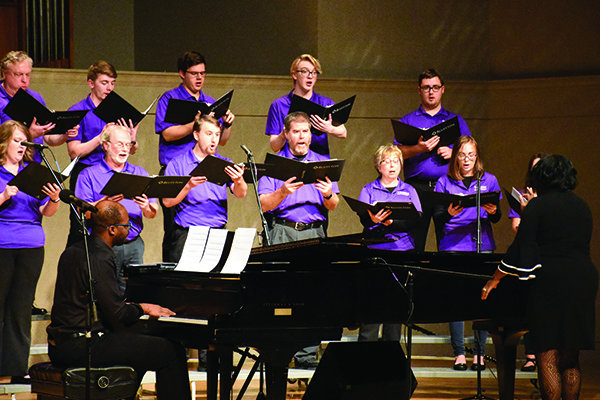 Virtual gospel choir/jazz concert offers challenges, opportunities
Bluffton University's fall gospel choir and jazz concert will be streamed for viewing at 6 p.m. Saturday, Nov. 21. At 5:30 p.m., the conductors will provide a pre-concert talk with audience members via Zoom.
Visit www.bluffton.edu/mus to access the Zoom meeting and concert link.
Under the direction of Dr. Crystal Sellers Battle, music department chair, the gospel choir, now in its 10th year at Bluffton, will perform four pieces featuring custom backing tracks.
"The gospel choir is a smaller group this year because of COVID-19, but members have worked really hard under unusual circumstances," explained Sellers Battle. "Their favorite piece for this concert is 'Hallelujah' from Handel's 'Soulful Messiah.' This song is a gospel take on the traditional 'Hallelujah Chorus.'"
Backing tracks were provided by musicians Wesley Sellers, drums; James Vines, bass and producer; and Terry Davis, keys. Because the rhythm section recorded their parts separately, they were able to add additional instruments and coloring to the mix to make the group sound like more than three players.
"While it will seem strange to not have audience feedback and participation, which is essential to a gospel performance, I am still thankful that we can share the work of the choir to larger and farther-distanced family and friends," said Sellers Battle.
Under the direction of Dr. Andrew Liebermann, assistant professor of music, the jazz ensemble will present three tunes: "Splanky" by Neal Hefti, "Haven't Met You Yet" by Michael Bublé (featuring vocal soloist, Kayden Cordell), and "Every Summer Night" by Pat Metheny.
"We are also taking advantage of this year's unique format," said Liebermann. "We had individuals record multiple parts, which we mixed together later. This has allowed us to perform tunes that are scored for a much larger ensemble."
Since the concert is being held virtually, free-will offerings will be taken for music scholarships at www.bluffton.edu/givetomusic.