Spring concert
04/21/2021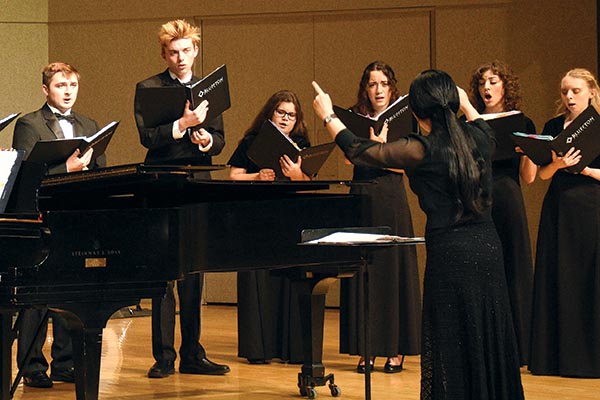 virtual Spring fling concert Set
Bluffton University's spring fling choral concert featuring University Chorale, Camerata Singers, Concert Band and several ensembles will be streamed for viewing at www.bluffton.edu/mus starting at 2:30 p.m. on Sunday, April 25.
Under the direction of Dr. Bo Young Kang, the choral portion will feature three pieces including: "The Rose" by Ola Gjeilo, "My Very Own" by Susan LaBarr and "The Blue Ridge" by Elaine Hagenberg.
Concert band, divided into smaller groups and directed by Dr. Roy Couch, will perform selections including: "Londonderry Air," "Havana Nights" and "The Saints' Hallelujah." They'll also play a composition by faculty member Dr. Andrew Liebermann titled, "Just Breathe."
Brass Chamber Ensemble, also under the direction of Couch, will perform two sacred transcriptions among others.
Jazz Ensemble will perform "Up Jumped Spring" by Freddie Hubbard, and Woodwind Chamber Ensemble will play Mozart's "Sonata for Bassoon and Cello." Both groups are under the direction of Liebermann.
Since the concert is being held virtually, free-will offerings will be taken for music scholarships at www.bluffton.edu/givetomusic.