Collage concert
11/12/2019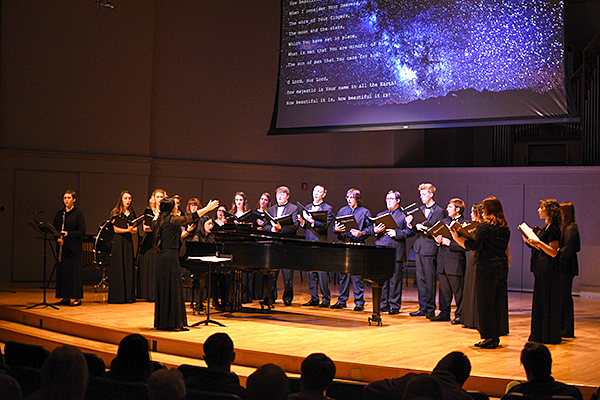 Bluffton University holiday concert
Bluffton University will host the Holiday Collage Concert at 2:30 p.m. Sunday, Nov. 24 in Yoder Recital Hall.
Get wrapped up in the sounds of the season when Bluffton's Jazz Ensemble, Concert Band, University Chorale and Camerata Singers come together to celebrate Christmas.
Conducted by Dr. Roy Couch, the Concert Band portion of the evening will include "Carol of the Drum," "Christmas Pipes," and "A Christmas Spectacular," a medley of favorites.
Under the direction of Dr. Bo Young Kang, University Chorale will perform "Matthew, Mark, Luke and John" by John Rutter, "Personent Hodie" by Lala Hoggard and "This Christmastide" by Donald Fraser. Camerata will perform "If ye love me" by Thomas Tallis, "Ave Maris Stella" by Javier Busto and "Lo How a Rose e'er Blooming" by Ed. John Rutter.
Bluffton's Jazz Ensemble, under the direction of Dr. Andrew Liebermann, will perform a variety of Christmas tunes prior to the start of the concert during seating.
This event is free and open to the public.