Crowned
10/16/2018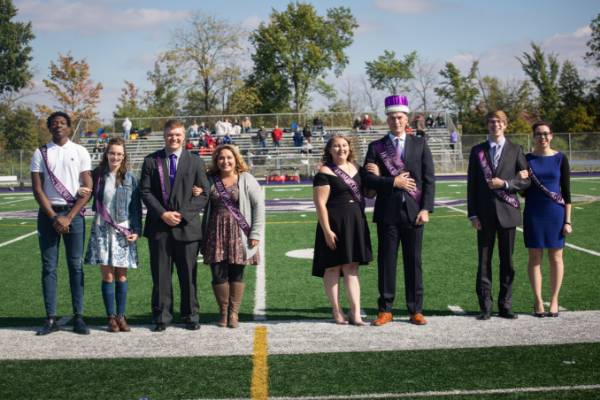 Seniors Jeffrey Arnett of Tecumseh, Mich., and Jena O'Brien of Toledo, Ohio, were crowned Bluffton University's Homecoming king and queen at halftime of the annual Homecoming football game on Oct. 13.
Other seniors on the Homecoming court were Thomas Wagler of Bloomdale, Ohio, and Angel Huerta of Archbold, Ohio. Junior attendants were Ethan Zaerr of Archbold, Ohio, and Emma Cobb of Archbold, Ohio, while sophomore attendants were Jihad Shockley of Columbus, Ohio, and Kayla McSwords of Marysville, Ohio.
Arnett is double majoring in mathematics and physics. He the hall director for Neufeld Hall. He is a member of the baseball team and involved with Bluffton's e-sports club and science club.
O'Brien is a public relations major. She is the hall director for Ramseyer Hall and is the vice president for the Student Alumni Association. She is also a student ambassador and is a C. Henry Smith Scholar.
Wagler is majoring in biology. He is the President of Fellowship of Christian Athletes and works as a Marbeck/Sommer Center assistant.
Huerta is majoring in social work. She is chairperson of Marbeck Center Board and is a member of the social work club and is a Discovery Program student.
Zaerr is a chemistry and physics double major. He is involved with the Peace Club, Bluffton Education Organization and the science club. He is also a chemistry tutor and is a supervisor at the library.
Cobb is a double major in dietetics and music. She is involved with the Bluffton University Nutrition Association and Ohio Collegiate Music Educators Association. She is a member of the concert band and work in the Learning Resource Center.
Shockley is a double major in criminal justice and sociology. He plays basketball for Bluffton and is a sophomore representative of Student Senate.
McSwords is majoring in dietetics. She is a supervisor at the information desk in Marbeck Center and is a student ambassador. McSwords is actively involved in the Chapel worship band, is part of the Bluffton University Nutrition Association and is a member of SERVE, Bluffton's service organization.
-B-