May Day Musical
04/22/2019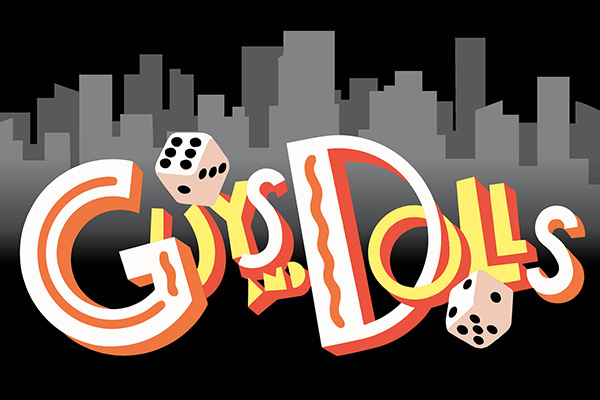 "Guys and Dolls to entertain
Bluffton University will present "Guys and Dolls" as the May Day musical May 3 to 4 at 7:30 p.m. each evening in Founders Hall.
This iconic Broadway show features popular songs such as "Luck Be a Lady," "If I Were a Bell" and "Sit Down, You're Rocking the Boat." Based on characters from short stories written by Damon Runyon, "Guys and Dolls" is a high-energy production with broad appeal for a wide range of ages.
"This is an opportunity to come see one of the best musicals ever written. It's just so iconic; you're going to go away singing, dancing and humming the songs," said Dr. Melissa Friesen, art, communication and theatre department chair and the director for this year's performance.
Centering on two gamblers looking to find a new location for their illegal craps game, the oddball romantic comedy takes audience members on a journey from Time Square to Cuba to the sewers of New York City.
Because of support from the family of Dale and Carolyn Dickey, the production will feature dynamic backdrops, vibrant costumes and a full orchestra to create a more lively performance.
"We can just do even more with these great funds, and for that we're very thankful," said Friesen.
Dale Dickey was a long-time faculty member at Bluffton University who taught speech and "Guys and Dolls" was a family favorite. "One of my early memories is of being carried by my mother as she sang, 'I love you, a bushel and a peck.' Dad directed many productions at Bluffton, including 'The Music Man', and 'Fiddler on the Roof,'" said Johanna Rian, Dale and Carolyn's daughter. "He led January-term study abroad classes in London to see theatre at its best—all of which inspired me eventually to complete a Ph.D. in theatre. It is an honor for our family to support this production of 'Guys and Dolls' in memory of Mom and Dad."
It's a favorite of many in the cast as well. Student cast member Hannah Brown '20, a graphic design major from Findlay, Ohio; Stephen "Tig" Intagliata, campus pastor; and Crystal Sellers Battle, music department chair and music director of the production, have all performed in previous productions of the musical.
"I'm really excited to see the whole production come together," said Brown who was a Hot Box Dancer in a 2016 production of the musical through the Fort Findlay Playhouse. "I'm really lucky and happy that Adelaide is my first lead role in my theatre career. Honestly, I have an attachment to this character now that I never thought I would because I feel that all my years in musicals have prepared me for this role!"
Intagliata acted in "Guys and Dolls" his freshman year of high school, the performance being his debut on the musical stage. He even passed down the musical gene to his daughter, who performed in the show during her time in high school as well. "This is my very favorite musical. I absolutely love the music and the storyline is great," he said.
Similarly, Sellers Battle was also exposed to the production in high school, performing as Mimi, making the musical one of her favorites of all time. "I fell in love with the music, the time period and the grandness of the whole thing," she said. Serving also as the pit conductor, Sellers Battle is eager to ensure the fifty plus pit, cast and crew members stay in synch and "don't rock the boat."
Although Bluffton's production may not be as large as the original Broadway performance, each cast member is eager to do their part to ensure that everyone has a great time and the audience leaves a song stuck in their head.
"'Guys and Dolls' is full of quick-witted humor that is meant to make the audience have fun," said Brown. "I hope people just let loose, forget their worries and laugh a little!"
This musical will be performed at 7:30 p.m. on Friday and Saturday, May 3 and 4, in Founders Hall. Tickets are $15 for reserved seats, $5 for bleacher seating and free for Bluffton University students. They are available online at http://tickets.bluffton.edu, or in person at Marbeck Center Information Desk. For assistance with tickets, call the box office at 419-358-3239.
Cara Echols '19, Student news writer