Peace oratorical contest
03/21/2019
Peace oratorical contest to be held
Bluffton University will hold its annual C. Henry Smith Peace Oratorical Contest at 6:30 p.m. on April 3 in Yoder Recital Hall.
Students selected to participate will prepare an oration, no more than ten minutes in length, which applies a peace-church perspective to an issue of contemporary concern.
Hannah Conklin of Westerville, Ohio, will present a speech titled, "Water Access as Inequality: A Vision for Justice and Healing." A speech titled, "Christian Persecution: A Nonviolent Protest" will be presented by Zachary Lykins of Pickerington, Ohio. Kiera Suffel of Edgerton, Ohio, will share "Peace in Marriage: How the Church Can Support Struggling Couples."
The student who is awarded first prize will receive $175. The second and third prize speakers will receive $125 and $100, respectively.
The first prize winner will advance to compete with winning students from other North American Mennonite colleges. The bi-national competition awards $250 for first place, $150 for second place and $75 for third place.
The contest is named in honor of C. Henry Smith, an early 20th-century Mennonite historian and a professor at Bluffton as well as at Goshen College.
-B-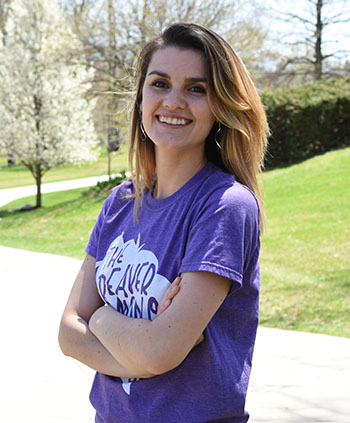 ---
Irena Xhari won the 2018 C. Henry Smith Peace Oratorical Contest. Her speech addressed the failures of the traditional criminal justice system in providing justice and promoted the use of restorative justice as a means of empowerment.