We Need to Talk
02/22/2019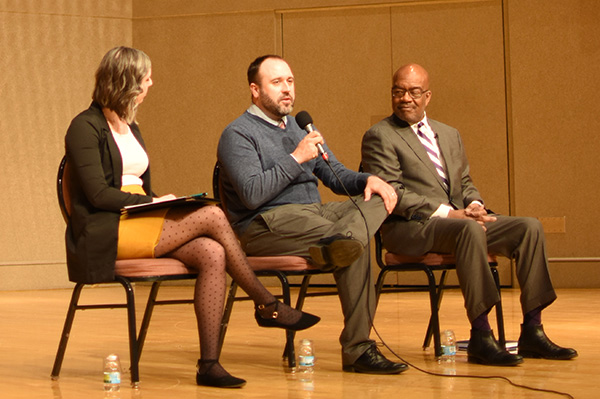 Alumni share advice on handling challenging conversations
Communication is fundamental to maintaining successful relationships at work, at home and in the church, but having hard conversations is something many people wish they could avoid. To help students prepare for these challenging moments during and beyond college, three Bluffton alumni returned to campus for the panel "We Need to Talk: How to Have Tough Conversations at Work, at Home, at Church."
"We tend to avoid, misunderstand or don't have the skillset to turn difficult conversations into positive and constructive ones," explained Lawrence Milan '73, senior vice president and chief human resources officer at Connecticut Children's Medical Center. "My goal is for us to have a discussion relevant for students so they may learn how to work through everyday challenges even when it's uncomfortable."
Moderated by Dr. Walt Paquin, director of social work, Milan was joined on the panel by Dan Metzger '05, lead pastor, St. Mark's United Methodist Church, Findlay, and Nicole Fairburn '15, sexual assault survivor advocate, Crime Victim Services, Lima. Questions ranged from "How do you ask about money and salary when searching for jobs?" to "How do you persevere in challenging situations?" and could be submitted anonymously via text message.
While the panelists shared advice for each particular question, they also provided general frameworks for approaching difficult conversations.
Milan: "I use a filter. I depersonalize topics to make sure I focus on the issue and not the person to make sure I approach conversations respectfully. Practice respect and treat others like you want to be treated in the conversation."
Metzger: "Have a healthy sense of self-doubt. You are not always right, and I think we forget about that sometimes in our culture. We can learn from each other, and we should never stop learning."
Fairburn: "I've learned in the years since I graduated, that things are not and cannot always be black or white. There are often different shades of gray. Remember to breathe and that it's okay to establish boundaries and disagree."
The event supported Bluffton's 2018-19 Civic Engagement Theme: "When Talking is Tough: Respectful Conversations in a Divided Nation." Throughout the year, Bluffton's students, faculty and staff are drawing on the Civic Engagement Theme to learn about and put into practice ways to better communicate with each other.