Voices of Conscience
02/01/2019
Exploring "Different Decisions of Conscience" during World War One
Dr. Perry Bush, professor of history at Bluffton University, will present "Different Decisions of Conscience: Mennonite Combatants, Noncombatants and Objectors in Ohio, 1916-19," at 4 p.m. on Sunday, Feb. 17 in Marbeck Center's Kreider Room.
The presentation will provide some general background on historic peace churches on the eve of World War One; the factors that influenced the decisions of young Mennonite, Quaker and Brethren young men concerning the draft; and the persecution that both draftees and peace-church congregations suffered because of their nonresistance stance.
"Many Mennonite draftees took up noncombatant or straight combatant service, and various church leaders counseled an easier accord with the WWI warfare state than a stricter reading of traditional Mennonite nonresistance would have seemed to have countenanced," explained Bush. "So the Mennonite response to the crisis of WWI was more ambiguous and fraught with compromise than many people recognize."
Voices of Conscience
The presentation is part of a series of events that are being held in coordination with the traveling exhibit "Voices of Conscience," which will be on display from Feb. 17-March 31 in Bluffton's Musselman Library. An opening reception for the exhibit will follow Bush's Feb. 17 presentation in Musselman Library.
The "Voices of Conscience" remembers the witness of peace-minded people against the First World War from 1914-1918 and immerses visitors in the historical experience of witnessing for peace during "total war." The exhibit also suggests parallels to the culture of war and violence in our world today. The exhibit was developed and produced at the Kauffman Museum in North Newton, Kan., and was underwritten at Bluffton by Jacob T. and Lola Friesen in memory of Jacob L. and Helena Friesen and Jacob J. and Eva Friesen.
Library hours are 8:30 a.m.-10 p.m. Monday through Thursday and 8:30 a.m.-4 p.m. Friday. Weekend hours are 1-4 p.m. on Saturday and 4-10 p.m. on Sunday.
For more information about additional exhibit-related presentations and the complementary exhibit "Of Bronze and Bravery," which highlights the Bluffton College experience in the Great War, visit www.bluffton.edu/voices.
All events are free and open to the public.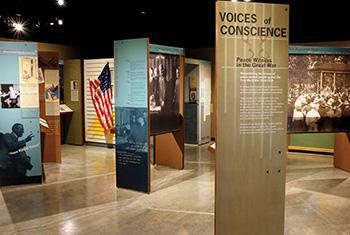 ---
This exhibit remembers the witness of peace-minded people against the First World War from 1914-18.