C. Henry Smith peace lecture
02/01/2019
Krabill to present peace lecture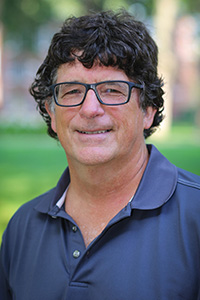 Merrill Krabill, chair of the art department at Goshen College, will present the annual C. Henry Smith Peace Lecture at 11 a.m. on Feb. 12 in Bluffton University's Yoder Recital Hall.
Krabill, an artist and educator, will explore the experience of fear as expressed in his ceramic artwork which will be on exhibit in Bluffton's Grace Albrecht Gallery in fall 2019.
Developed through interviews, reflection and studio practice, Krabill's presentation considers how to guide a life towards wholeness without being deflected off course by fear.
The lectureship honors C. Henry Smith, the late professor who taught at Bluffton for 35 years, from 1913-48, after spending 10 years at Goshen College. Smith was known for his books on Mennonite history and the peace tradition of the Mennonite churches. After his death in 1948, his estate established a trust in his name that funds projects—including the lectureship—that promote the Mennonite peace message.
The lectureship is awarded each year to a faculty member from one of the Mennonite colleges, with priority given to Goshen and Bluffton faculty. The chosen faculty member must prepare a lecture that promotes the Mennonite peace stance, then present it at Bluffton and Goshen and at other schools and on other occasions as invited.
This event is free and open to the public.