Employee milestones
02/01/2019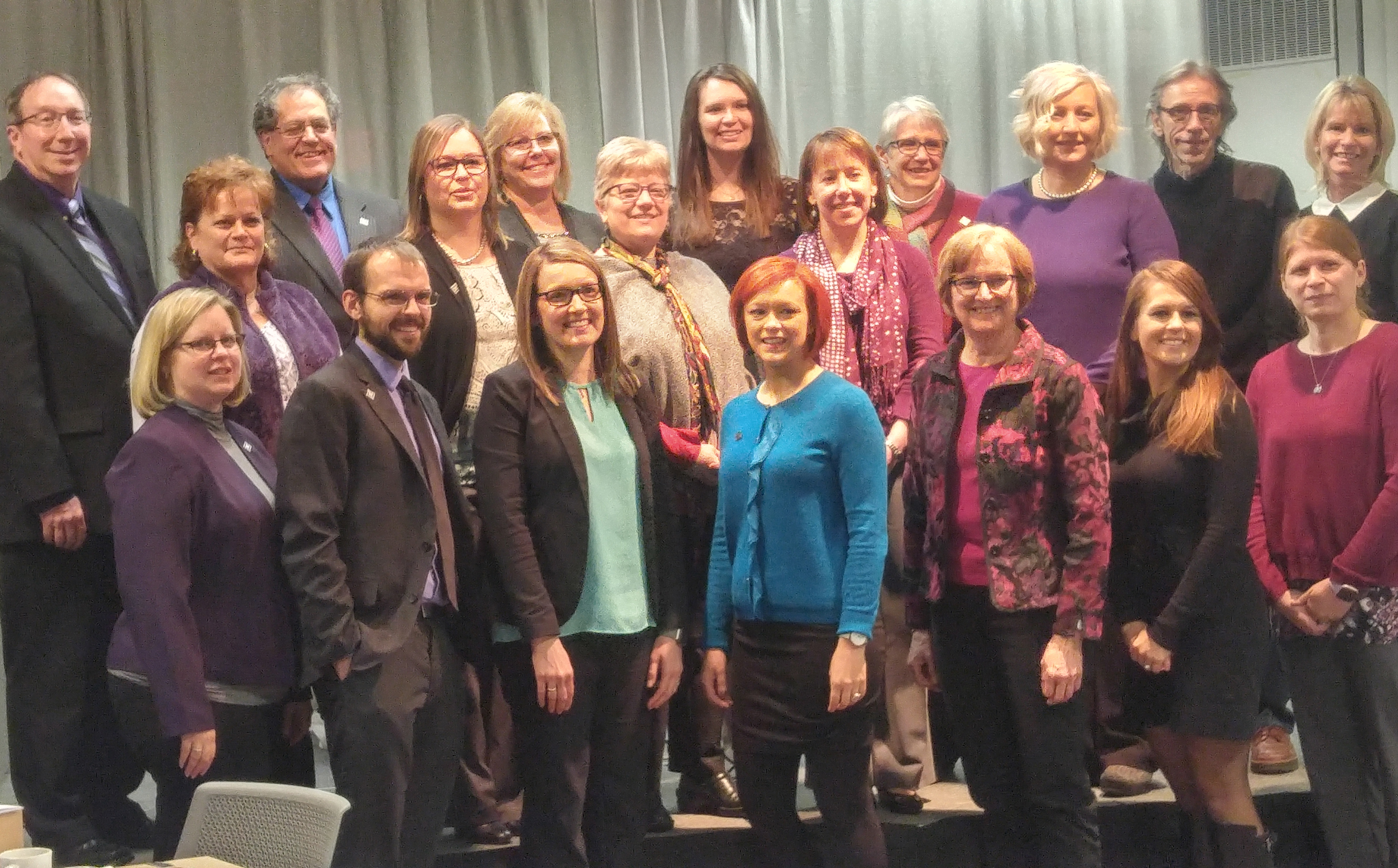 Service to students recognized
The commitment of faculty and staff to Bluffton's mission and values leads to successful outcomes for students. Several long-serving Bluffton employees were recently recognized for this commitment during the annual faculty and staff recognition dinner where employees—reaching five-year milestones up to 35 years—were celebrated. Recognized this year were:
Front row: Robin Bowlus, interim vice president for enrollment management, 15 years; Brent Schroeder, development associate and annual fund coordinator, 5 years; Carrie Phillips, archives and special collections librarian, 20 years; Karen Bontrager, director of institutional research and assistant registrar, 5 years; Iris Neufeld, registrar, 15 years; Megan Morris, administrative assistant and operations coordinator to buildings and grounds, 5 years; Kim Schimmoeller, associate athletics director and athletic trainer, 10 years.
Middle row: Cindy Luginbuhl, student accounts coordinator, 15 years; Alison King, creative director, 5 years; Shari Ayers, director of Center for Career and Vocation, 5 years; Deanna Barthlow-Potkanowicz, assistant professor of psychology, 5 years; Jeanna Haggard, assistant professor of food and nutrition, 5 years; Amy Mullins, assistant professor of education and director of graduate programs in education, 5 years.
Back row: Roy Couch, assistant professor of music, 5 years; Lawrence Matthews, director of financial aid, 35 years; Sue Schutz, business office cashier, 10 years; Emily Warner, admissions operations manager, 5 years; Marie Yoder Dyck, financial aid office operations coordinator, 10 years; Phil Sugden, assistant professor of art and art department coordinator, 20 years.
Not pictured: Amber Smith, administrative assistant for student life, 10 years; James Grandey, head baseball coach and associate athletic director for development, 15 years; Audra Oglesbee, access services coordinator, 15 years; Julie Hadding, production coordinator, 20 years; Janine Paul, bookstore manager, 30 years.