Faith-based MAEd
03/06/17
Bluffton University to offer faith-based MAEd concentration
Bluffton University is now offering a faith-based concentration of study for educators seeking a master's degree. The faith-based concentration is in addition to Bluffton's intervention specialist licensure, reading endorsement and leadership concentrations. The concentration is an outgrowth of the Mennonite Education Agency's Anabaptist Learning Institute program which features 10 credit hours of Christ-centered graduate-level coursework.
"I think this is a unique opportunity for us as an institution, for schools and educators to bridge their Anabaptist principles of Jesus and community and reconciliation with the very practical aspects of public and private education," said Erin Burkholder, director of adult and graduate studies. "It's about creating an opportunity for people to find ways to live out their faith in situations that aren't always made for overt faith expression. It's exciting. It's something that I'm glad we're doing."
While the ALI program has been around for several years, this is the first time the courses will count toward a Master of Arts in Education at Bluffton University. Professionals who have previously completed the ALI program can use the credit they have already earned toward completing their MAEd at Bluffton or professionals who have not taken the ALI courses can complete the program concurrently. All Bluffton MAEd classes are offered online or through Zoom video-conferencing technology, meaning classes can be taken from the convenience of the participant's home.
Bluffton is part of the State Authorization Reciprocity Agreement, a national initiative which makes distance-education courses accessible to students across state lines.
"Because of this, we can offer graduate classes for teachers outside of Ohio, and since we use Zoom technology, teachers can join us from Pennsylvania, Indiana or wherever they live," said Dr. Gayle Trollinger, director of graduate programs in education and professor of education.
During the ALI portion of the program, participants will learn to ground their work in Anabaptist faith and values while refining their philosophy of teaching with other faith-driven professionals. Two of the ALI classes are taught by Dr. Gerald Mast, professor of communication at Bluffton University.
"Faith is often seen as something you add on to education or is really the purview of the chaplain or the pastor. However, this program will explore how faith connects with the way disciplines are taught," said Mast.
The ALI courses were developed based on Mennonite pastor, educator and author Palmer Becker's three distinctives of Anabaptist Christians that: Jesus is the center of our faith, community is the center of our lives and reconciliation is the center of our work.
Elaine Moyer, senior director of MEA, says the degree is a natural choice for Mennonite/Anabaptist educators who teach in Mennonite schools.
"Educators in this program will have important conversations around teaching and learning and living. It is a way for Mennonite educators to be both professionally developed as an Anabaptist educator and a fully-vetted, master's-level graduate," said Moyer. "Our schools are no longer Mennonite schools for Mennonites, they're Mennonite schools for all. There is increased diversity now, and people are coming in from other faith traditions, but through this concentration we can help children to understand the power, the love, the beauty and the mystery of God regardless of religious affiliation."
However, organizers believe there are practical applications for a wide range of teachers from Christians of other denominations to public school teachers searching for a way to connect themes of peace, community and restorative discipline into their classes no matter where they teach or the faith traditions of their students.
"This is information that could be supportive and valuable for any teacher. Learning how to develop caring communities in classrooms is a valuable tool for all teachers," said Moyer.
MAEd classes are offered in the fall, spring and summer. The program can be started at any time. Teachers and professionals interested in learning more about Bluffton's graduate programs in education should contact Adult and Graduate Studies at Bluffton by calling 419-358-3897 or emailing adulted@bluffton.edu.
-B-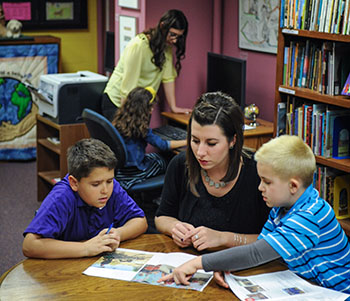 Faith is often seen as something you add on to education or is really the purview of the chaplain or the pastor. However, this program will explore how faith connects with the way disciplines are taught," said Dr. Gerald Mast.