SURVIVING A (TRIG) IDENTITY CRISIS
---
"If you were stuck on a desert island,
which trig identities would you want to have with you?"
---
Let's start with some poetry by high school trig students:
one by Elizabeth Palmieri and one by Erin Stanley
---
Good books, etc. for reference:
Most (if not all) precalculus or calculus textbooks have a trigonometry appendix
(e.g., page A22ff of Stewart, 2nd ed.)
CRC Standard Math Tables
(e.g., 27th edition, page 137ff)
A TI-89 or TI-92, which do trig manipulation with tExpand and tCollect
(below, left)
Any other graphing calculator, for verifying trig identities graphically or numerically
(below, right)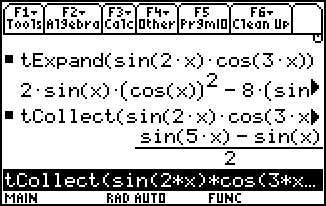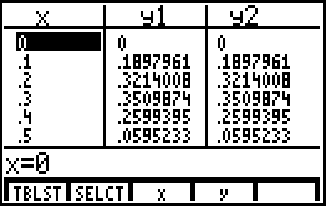 ---
Resources on the Web
Web searches for "trig identities" at google.com and at msn.com lead to the following links (and many others):
---
Building Blocks:
A fundamental set of relationships and identities
SOHCAHTOA (right-triangle trig)

... leads to Pythagorean identities and co-function relationships

Note: There is no substitute for remembering the basic definitions!
Extending trig functions to the unit circle

... leads to periodicity and reflection relationships [e.g., sin(p–x)=sin x]

Sine and cosine double angle identities (sin 2x = 2 sin x cos x; cos 2x=cos2x – sin2x)

... leads to angle sum/difference formulas, and also to the half-angle formulas for sine and cosine

Others ...?
---
Application:
CMJ problem 709

Basically, this problem asked for solutions to the equations


(a) p/4 = arctan(q) + arctan(x)

(b) p/4 = arctan(q) + 2arctan(x)


where q and x are both rational ....