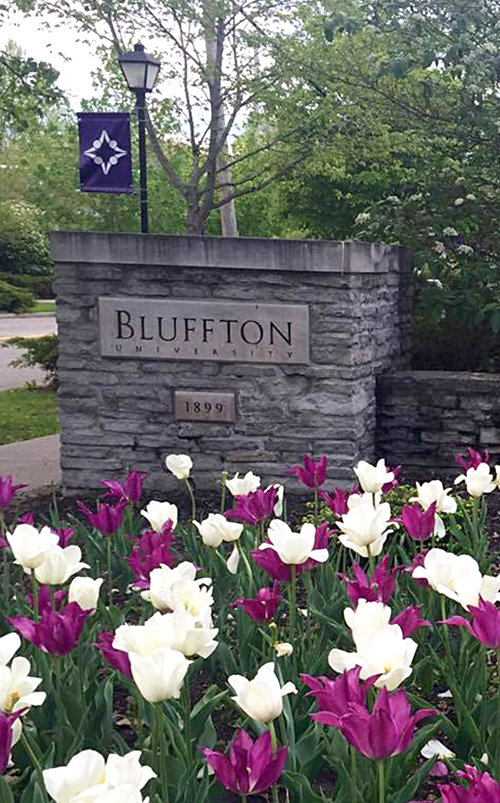 Director of Center for Career and Vocation
Full time/12 months
The following statements are intended to describe the general nature and level of work being performed. They are not intended to be construed as an exhaustive list of all responsibilities, duties, and skills required of personnel so classified.
POSITION SUMMARY:
The Director of Center for Career and Vocation is responsible for the overall operation and management of the Center for Career and Vocation. The center provides career readiness and vocational advising and resources to Bluffton students and a centralized place of contact for outside organizations interested in working with our students and alumni. The director provides leadership and vision for the center, is responsible for implementing the center's programming, coord8nates with the Ohio Means Jobs staff member and supervises the center's student workers.
The director serves as a thought leader to integrate career readiness throughout the academic program and works closely with faculty and staff members to integrate e-portfolios, internships and service learning into the academic program. The center maintains a database of jobs, internships, fellowships and volunteer/service experiences, as well as tracking students post graduate destinations. The center provides a place for exploration of vocation through information gathering, individual meetings, social networking, programming and discussions. The director will teach two courses each year in the Enduring Values general education program.
ESSENTIAL DUTIES AND RESPONSIBILITIES:
The director will:

Direct and coordinate activities related to vocational exploration, career readiness, portfolio development and the professional use of technology for all students, with particular attention to diverse student populations.
Determine goals and learning objectives for the center for career and vocation and carry out an annual assessment plan of student learning.
Work closely with faculty and academic affairs staff, and other on-campus departments, to develop integrated programming and resources, including career readiness within majors, and provide presentations as needed in classes.
Provide intentional vocational discernment for students and alumni and offer professional and up-to-date career readiness advising.
Become certified in Designing Your Life and serve as a resource for faculty and staff around key professional development strategies, such as the Designing Your Life, Myers-Briggs Type Indicator, Strong Interest Inventory, StrengthsFinder and electronic portfolios.
OCCASIONAL DUTIES AND RESPONSIBILITIES:
The director will on occasion:
Host evening and weekend hours as needed for students and alumni access.
Meet with prospective students and parents as requested.
Create, implement, and evaluate a communication plan, in consultation with the PR/Communications office.
Collaborate with the advancement and development offices, grants and other sources of funding to increase the resources available to students and alumni.
QUALIFICATION REQUIREMENTS:
The requirements listed below are representative of the knowledge, skill, and/or ability required to satisfactorily perform the essential duties of this job.
Minimum:
Education and/or Experience: Bachelor's degree required along with appropriate work experience.
Special Skills: Excellent written and verbal communication skills, strong computer skills, ability to manage several tasks simultaneously, must stay up to date with new fields and career information.
Preferred:
Education and/or Experience: Master's degree in relevant field; previous experience in career development
PHYSICAL DEMANDS / WORK ENVIRONMENT:
The physical demands and/or work environment described here are representative of those that must be met or will be encountered by the employee while performing the essential functions of this job. Reasonable accommodations may be made to enable individuals with disabilities to perform the essential functions.
Mobility around campus
Driving off campus
Valid driver's license
COMPENSATION:
Commensurate with education and experience within the university pay scale.
APPOINTMENT:
Position is available for immediate appointment.
DEADLINE:
Review of applications begins immediately and continues until an appointment is made.
APPLICATION MATERIALS:
Applications are considered complete when the following materials are received at the office indicated below:
Send application materials to:
hr@bluffton.edu
Employment decisions are based on merit and university needs, and not on race, color, national origin, ancestry, sex, age, disability, marital status, sexual orientation, gender identity or any other status protected by law. As a religious institution, Bluffton University expressly reserves its rights to appoint faculty and staff who share a commitment to the Christian faith which is consistent with the Mennonite/Anabaptist beliefs of the university's founding and supporting church. EOE.