Journalism Competition

celebrating excellence in high school journalism
High school students and journalism/media clubs are invited to participate in the Bluffton University Journalism Competition.
Submit your best work before Dec. 11, 2019. Cash prizes will be awarded in several individual categories and for the best overall team.
First, second and third prizes of $75, $50 and $25 will be awarded in each individual category at the Jan. 29 award ceremony.
Individual categories
Feature story - print, online, audio or video
Hard new story - print, online, audio or video
Sports story - print or online
Opinion piece - print or online
News feature photography
Team category
Best overall portfolio from a school (minimum of five pieces)

$500 to the best overall school/media organization


Submissions
To compete, submissions must be uploaded before Dec 11, 2019. There is no entry fee.
Please submit
PDF for hard copy print pieces
JPG for photos
Link to website for online, audio or video files
Prizes will be presented at an awards banquet on campus on Wednesday, Jan. 29, 2020.
The Witmarsum, Bluffton's student-driven media website, is hosting this competition.
Competition award ceremony
Participating high school journalism/media clubs and students are invited to campus Wednesday, Jan. 29, 2020. Awards will be presented at that time. Must be present to win.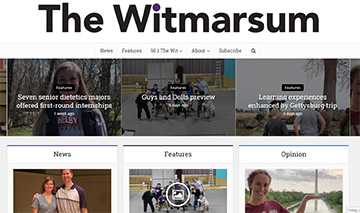 ---
The Witmarsum is the student-driven media website of Bluffton University, featuring student-produced news and feature stories.