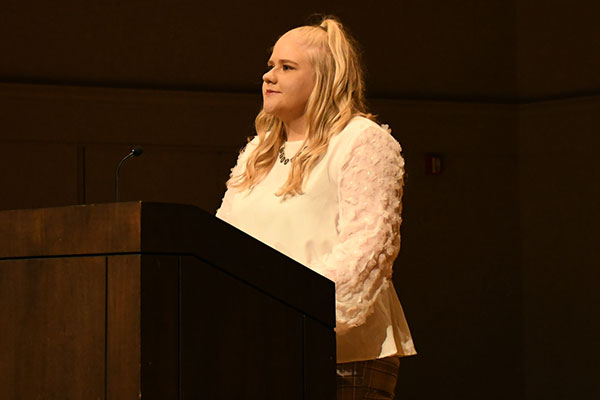 ---
Payton Stephens '22, a writing and communications and media double major was named the winner of the 2023 C. Henry Smith Peace Oratorical Contest. Her speech was delivered to address issues of restraining religious conversations in schools.
Past presentations
C. Henry Smith Peace Oratorical Contest Archive
Speeches from the 2023 Contest
news release
Payton Stephens, 1st place, "Finding Peace in Religious Conversations: The Free Exercise Clause and Public Schools"
Aspyn Rafac, 2nd place, "Mennonite on Indigenous Soil: Making Peace After Colonialism"
Olivia (Lou) Westcott, 3rd place, "Interpersonal Relationships—It's Complicated: Status and Hierarchy Within our Everyday Lives"
2022 Contest
Madison Baker, 1st place, "The Monster of Darkness that Embezzles the Peace Within: Sex Trafficking"
Payton Stephens, 2nd place, "Blind Structured are Blind Attitudes: Peace Within the Social Model of Disability"
Joseph Earl, 3rd place, "Moving Toward Nuclear Disarmament: Rebooting START"
2021 Contest
Olivia Tennefoss, 1st place, "Turning Profit Into Peace: The Shalom of Small Business"
Claire Myree, 2nd place, "Making Peace with Our World Through Reduction"
Jenny Dorsey, 3rd place, "We Need Not Make Another Other: How the Church's Practice of Exclusion Violates Jesus' Call to Peace"
Gabriel Denecker, "Privilege and Greed: Global Inequalities and the Things that Keep Us from Peace"
2020 Contest
Gabriel Denecker, 1st place, "The Catholic View of Peace: Just War and the Brotherhood of Humanity"
Claire Myree, 2nd place, "Can Friendship Trump All? Friendship in the Trump Era"
Olivia Tennefoss, 3rd place, "America the Beautiful: At the Border and in our Communities"
Obi Martin, "Civilization Self-Critique"
Zachary Lykins, "Peacemaking in a Pandemic"
2019 Contest
Hannah Conklin, 1st place, "Water Access as Inequality: A Vision for Justice and Healing"
Kiera Suffel, 2nd place, "How the church can be more supportive for struggling married couples"
Zachary Lynkins, 3rd place, "Christian persecution and how we can support those who are persecuted and have no voice"
2017 Contest
Claire Clay, 1st place, "Social Media and Conflict: Eradicating Online Drama through Compassion and Peacemaking"
Eric Beachy, 2nd place, "Making Peace through Restorative Agriculture"
Olivia Poole, 3rd place, "Restoring Peace by Challenging White Privilege"
Katey Ebaugh, "Muslim People: Terrorized, not Terrorists"
2016 Contest
Rebecca Starn, 1st place, "Peace through Female Education"
Angel Huerta, 2nd place, "The Epidemic of Domestic Violence"
Jonah Eckert, 3rd place, "Fighting Hunger to Promote Peace"
2015 Contest
Emily Huxman, 1st place, "Reducing Global Violence against Women through Education"
>>> Binational contest first place
Chay Reigle, 2nd place, "The Fourth Estate of Peacemaking"
Venessa Owsley, 3rd place, "Making Bluffton a Safe Space"
2014 Contest
Mary Schrag, 1st place,

"Shooting Chivalry"

Emily Huxman, 2nd place,

"Turning Swords into Ploughshares One Story at a Time"

Rebecca Juliana, 3rd place,

"Out of the Closet, Out of a Job?

"
2013 Contest
Brent Schroeder, 1st place, "Being Seated at the Table of Christ: Ritual and Disability"
Katie Wineland, 2nd place, "Queering Bluffton: Embracing the Other, Embracing our Own"
Nathan Barber, 3rd place, "Saving Afghanistan"