7:30 p.m. - May Day Gala Concert, livestreamed
SaturDAY, MAY 8
7:30 p.m. - May Day Gala Concert, livestreamed


Adopt-A-senior
A big thank you to the nearly 100 alumni that signed up to help with our Adopt-A-Senior letter writing project! It has been phenomenal to see how many alumni from different class years volunteered for this effort to welcome members of the Class of 2021 into the Bluffton Alumni community! For those who volunteered, your assigned senior has been emailed to you along with instructions on writing and submitting your letter. Please ensure that your letter is received by the office before April 28. Contact Jessi Samuel, annual giving manager, if you have any additional questions.
Class reunions
Do you want to reconnect with your classmates? The Alumni Office is here to help! We would love to assist in planning a Virtual Class Reunion for the week of May 2-7, 2021. We will help you select a day and time, set up the Zoom meeting and promote it to your classmates. Contact Jessi Samuel, annual giving manager, to begin the process!

Beaver Coloring Contest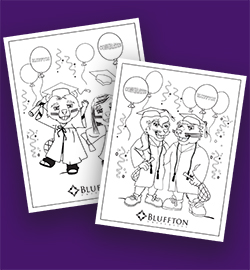 Future Beavers ages 5-12 can enter the Bluffton Beaver coloring contest for an opportunity to win one of three prizes! Download the Mascot graduation coloring pages to decorate and email a copy of the final artwork to samuelj@bluffton.edu by 1 p.m. EST Friday, May 7, to enter the contest. Winners will be selected on Friday and featured on Bluffton's social media accounts.

Virtual 5k Walk/run
Participants can gear up for this years Virtual May Day 5k Walk/Run. All are welcome to participate. Make it a family event, bring the dog and head to a local park! Snap a 'Virtual May Day 5k' picture to be entered in a drawing with prizes. Here are the different ways to enter:
Post your picture on social media and tag us on Facebook or Instagram
Direct message your picture to us on Facebook or Instagram
Send your picture via email to samuelj@bluffton.edu
Winners will be selected during the week and announced on Bluffton's social media accounts!


Legacy program
Did you know Bluffton University has a Legacy Program? This program is for children and grandchildren of Bluffton alumni. Starting as newborns, Bluffton legacy kids can receive gifts from J. Denny and Jenny on various birthdays, and Bluffton awards a renewable $1,000 Alumni Grant to new first-year or transfer students whose parents, grandparents or siblings are Bluffton alumni or current students.