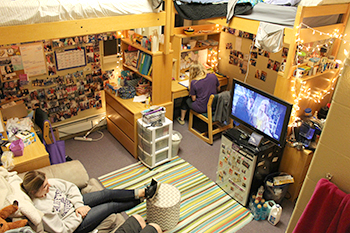 Stay overnight on campus
Overnight visits are available to students who have completed their application to Bluffton University. This is your opportunity to experience residence life first-hand.
>>> register today
Schedule - Overnight visits are scheduled Sunday-Thursday evenings except during student breaks noted below. Arrive time is typically between 5-8 p.m. with your visit concluding after lunch the following day. A minimum two-day advance registration is required for overnight visits.
Overnight host - You will be matched with a Bluffton student as your overnight host. If you have friends or family you would like to stay with, just let us know.
Items to pack - pillow, blanket, towel and flip flops for the shower along with any personal items. Bring a jacket and comfortable walking shoes for your campus tour.
Cost - There is no cost for the overnight visit. All meals on campus are complimentary; however, you may want to bring some money for extras.
Family - Local hotel options are available for family members who plan to stay nearby. Mention that you are visiting Bluffton University for a discounted rate at some hotels.


Due to student breaks and finals, overnight visits will not be scheduled for the following dates in 2019-20:
Oct. 6-8 (Fall break)
Nov. 27-Dec. 1 (Thanksgiving break)
Dec. 8-Jan. 7 (Finals and Christmas break)
March 1-8 (Spring break)
April 10-13 (Easter break)
Included Content