Develop skills through A LIBERAL ARTS EDUCATION:
Critical thinking, reading and problem-solving
Written and oral communication
Quantitative reasoning and thinking
Library

and informational resource use
Core Curriculum
WHAT CAN LIBERAL ARTS DO FOR YOU?
Bluffton's core liberal arts curriculum is designed to provide you the basis for lifelong learning to meet the challenges of living and working in the 21st century.

Balance
Our liberal arts education gives you a higher level of understanding in Christian faith, humanities, social science, natural science, mathematics and the arts so you can find a perfect balance. You will also take a introductory first year and senior capstone course. Liberal arts courses >>>

Perspective
At Bluffton, you will see and experience a range of perspectives. We embrace global, multicultural learning and appreciate the diversity and commonality of all people. We consider cross-cultural learning an opportunity for exploration and growth, so we've included that in our program. Cross-cultural experiences >>>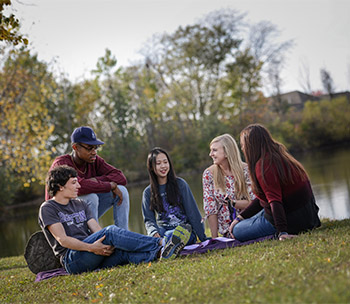 Relationships
By learning across disciplines, you will build connections with students and faculty you never thought you would. Those relationships will help prepare you for life as well as vocation. We also encourage you to get involved in an organization or activity on campus.

Community
We want you to feel like you belong, so we try to create a safe, comfortable community. Central to our community building are the ideas of service, integrity, peacemaking and responsible citizenship. We've incorporated those values into the Bluffton experience. One way we strive for this is through civic engagement.
Included Content