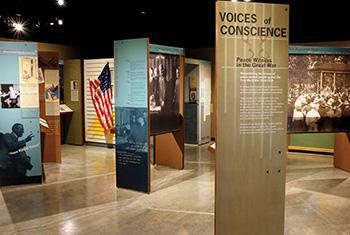 Voices of Conscience
Feb. 17-March 31, 2019
Musselman Library Reading Room
Open during regular library hours


Peace Witness in the Great War
This traveling exhibit remembers the witness of peace-minded people against the First World War 1914-18. This witness included men and women, religious believers and secular humanitarians, political protesters and sectarian separatists. They resisted U.S. involvement in the war, the enactment of military conscription, war bond drives and the denial of freedom of speech under the Espionage and Sedition Acts.
For this resistance many suffered community humiliation, federal imprisonment and mob violence at the hands of a war-crusading American public. This exhibit lifts up the prophetic insights and the personal courage of World War I peace protesters, and suggests parallels to the culture of war and violence in our world today.
The Voices of Conscience exhibit was developed and is toured by Kauffman Museum at Bethel College, North Newton, Kan. VoicesofConscienceExhibit.org
Of Bronze and Bravery:
Local Voices of Conscience
Selected works of artist and emeritus art professor John Peter Klassen will also be displayed, with archival documents and artifacts illustrating the Bluffton College experience in the Great War.


underwriter
Voices of Conscience exhibit was brought to Bluffton University through a gift from Jacob T. and Lola Friesen in memory of Jacob L. and Helena Friesen and Jacob J. and Eva Friesen.
Supporting events
Sunday, Feb. 17
4 p.m.
Marbeck Center Kreider Room
"Different Decisions of Conscience: Mennonite Combatants, Noncombatants and Objectors in Ohio, 1916-19"
Dr. Perry Bush, professor of history, Bluffton University


---

Sunday, Feb. 24

4 p.m.

Marbeck Center Kreider Room

"'Remember What Happened to Uncle Daniel at Leavenworth?' A Case Study of Mennonite Conscience, Quiet Conviction and Silent Death"
Dr. Scott Holland, professor of theology and culture, Bethany Theological Seminary

---

Sunday, March 3

4 p.m.

Marbeck Center Kreider Room

"Conscience, Scripture and Patriotism: The Church of the Brethren and the Crisis of the Great War"
Dr. William Kostlevy, director, Brethren Historical Library and Archives

---

Sunday, March 10
4 p.m.

Marbeck Center Kreider Room

"'We Are Still Compelled…': Artifacts of Bluffton's World War I Experience"
Carrie Phillips '99, archives and special collections librarian, Bluffton University

---

Tuesday, March 12

11 a.m.
Yoder Recital Hall
"Songs for Resistance and Revolution"
Dr. Crystal Sellers Battle, associate professor of music, Bluffton University

---

Sunday, March 17

4 p.m.

Yoder Recital Hall
"Songs of Conscience and Peace: Music of the Great War Era"
A variety show co-organized by Dr. Crystal Sellers Battle, Bluffton Univeristy, and Wendy Chappell-Dick MBA '08

---

Sunday, March 24

4 p.m.
Marbeck Center Kreider Room
"The John P. Klassen Legacy: Images and Stories of Peace"




John P. Klassen '71, grandson of John P. Klassen




---

Tuesday, March 26

11 a.m.
Yoder Recital Hall
Keeney Peace Lecture, "Changing the World One life at a Time: The M.J. Sharp Story"


John Sharp, historian and tour leader for TourMagination

---

Sunday, March 31

4 p.m.

Stutzman Lecture Hall
"On the Front Line of Conscience: An Account of Four Hutterites Imprisoned at Alcatraz"
Dora Maendel, teacher, Fairholme Hutterite Colony, and Dr. Duane Stoltzfus, professor of communication, Goshen College

---