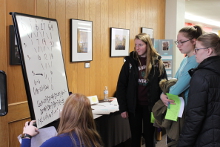 Research Fair Nomination Form
Celebrate student research, pre-professional experiences, and creative work by nominating students from your classes to present at the 2020 Research Fair! Before nominating, please check with the student to be sure of his/her interest. Then, complete this nomination form for each student, and we'll follow up by email to confirm the nomination.
Questions? Please contact Carrie Phillips, Research Fair Coordinator.
The 2020 Research Fair will be held Thursday, February 6, 2020, on the library's main floor.
* All fields are required