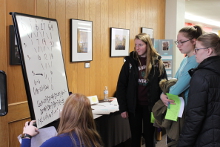 Research Fair Nomination Form
Thank you for your interest in the library's annual Research Fair. In light of both COVID-19 precautions and staff transitions in the library for the 2020-2021 academic year, the Research Fair event has been indefinitely suspended.
Questions may be directed to Carrie Phillips, interim library director.