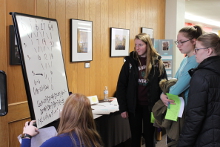 Research Symposium Nomination Form
Bluffton University's tradition of celebrating student research, pre-professional experiences, and creative work returns Thursday, April 21, with a 3pm symposium event in Musselman Library. Presenters will offer a short talk (3-5 minutes) describing their project or experience (think Three Minute Thesis or PechaKucha, but without the competition). The event will proceed in rounds of 3-4 presentations with a brief Q&A session before the next round begins.
Presenters are nominated by faculty for work completed during Spring 2021, Summer 2021, Fall 2021, or Spring 2022 semesters. Before nominating, please check with the student to be sure of his/her/their interest. Then, complete this nomination form for each student, and we'll follow up by email to confirm the nomination.
Questions? Please contact Carrie Phillips, library director.
* All fields are required