The night of room draw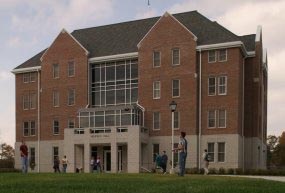 Room Draw occurs over two sessions on separate evenings.
The entire room selection process occurs in Sommer Center. Consult the room draw schedule to assure that you are there at the correct times. The night of room draw, all students will gather in Sommer Center. Events will occur as follows:
When the announcer calls your room draw number, you and your roommate (if applicable) will proceed to the announcer's table.

Tell the announcer your room draw number and your roommate's room draw number. There will be a copy of the room draw numbers at room draw if you have forgotten your number.

Once given clearance, you may proceed to the room draw room where you will be given your room application card and housing agreement.

Only one set of roommates may look at the residence hall boards at one time. A designated staff member will indicate when you may enter the room. Quickly look at the boards and make your decision.

You and your roommate will write your names on the board. A staff member will write the information down on the room application card while you and your roommate finish completing the housing agreement.

Each person will turn their housing agreement in at the back of the room. At that time, individuals may register for the parking draw with the business office. Any parking questions should be directed to the business office personnel at their table.

Please remember: once you sign up for a room, you may not change rooms.

Upon finishing your parking draw information, please exit the room. You may not return to the room.