Center for Career & Vocation
join us for our open house -- thursday, oct. 2
All students, faculty, and staff are invited to join The Writing Center and The Center for Career & Vocation at the FALL OPEN HOUSE.
THURSDAY, OCT. 2 from 3 - 5 p.m.
You are invited to visit a space on campus that is both familiar and new. Walk through the front doors of Musselman Library and look to your left. The space that was once occupied solely in the evenings by the Writing Center is now a collaborative space that houses both the Center for Career & Vocation (from 9 to 4) and the Writing Center (from 4 to 9 and on weekends).

The mission of the Center for Career & Vocation is to help students become both career ready and purpose led. We hope that this new location – accessible, engaging, hospitable, and arising from the integration of both academic and student life principles – will support this mission and the larger mission of Bluffton.
Center Hours: Monday - Friday: 9 a.m. - 4 p.m.
Weekends and evenings by appointment
The Center for Career & Vocation is not just for seniors! Services are available to provide guidance throughout your collegiate experience and beyond.
>>>
Students, alumni, employers and faculty - check our event calendar
Join the conversation today!
Questions? Contact the Center for Career & Vocation: career@bluffton.edu or 419-358-3030.
Make an Appointment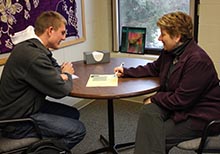 The Center for Career and Vocation is open Monday-Friday, 9 a.m.-4 p.m., to offer guidance in selecting a major or in preparing for life after Bluffton.
>>> make an appointment
What is the CCN?

Search job listings, upload a resume, access career advice, find a mentor and more through the College Central Network, with services for students, alumni and employers.
Student Testimonial
The Center for Career and Vocation is a huge asset. Whether the question is what major to choose or what graduate school to attend, the Center for Career and Vocation has plentiful resources to help you make well-informed decisions about your future! - Bri Nofziger '11