Economics
The economics program helps students develop an understanding of the economic systems which influence societies. Bluffton's economic program is centered on the historical, institutional and philosophical economic models that have been the traditional core of economics. Our economics courses focus on analytics and data synthesis.
---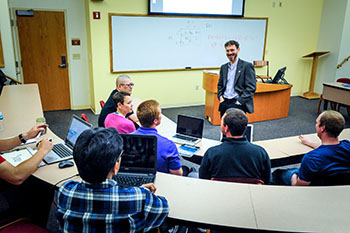 Our faculty
Despite understanding the uphill battle he is undertaking, Dr., Jonathan Andreas is attempting to change the way economists and world leaders measure well-being. For years, Gross Domestic Product (GDP) has been the standard measurement of well-being, but Andreas recently presented his original research in an effort to sway world leaders and fellow economists toward another standard.
"I absolutely think MELI has the potential to improve lives. Economists agree GDP is a bad measure. The problem is nobody has been able to agree upon a better measure." >>> Learn more
---
Our students
"My main goal is to be a financial advisor, but a different type of financial advisor than what most people think. I'm not going to sell you something you don't understand. I'd like to teach people about investment products, how to get the right portfolio and better understand financial literacy."
>>>Josh's story
---
During the past four years, almost half of the students graduating with an economics major continued on to graduate school in either economics or business.
Economics graduates from Bluffton are employed as analysts, administrators, researchers, teachers, computer analysts and law professionals at organizations such as Marathon Oil, British Petroleum of America and various Mennonite institutions. >>occupational outlook
This major can be completed in three years if you are a dedicated and ambitious student.
Explore the courses required for a

COURSE PLANS are provided as a guideline for course selection leading to an economics major in three years or four years.
Want to learn more about Bluffton?