The Bluffton Literary Journal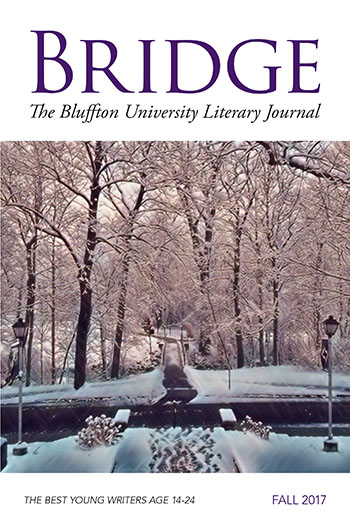 Bridge: The Bluffton University Literary Journal
In the summer of 2016, Bridge: the Bluffton University Literary Journal was little more than an idea, a bold new initiative to establish a literary journal for young writers with a national scope.
Editor Jamie Lyn Fletcher, assistant professor of English, envisioned that the magazine would be student-driven and that it would publish works from the best young writers age 14-24.
Bluffton University students in Jamie Lyn's class serve as editorial assistants: soliciting, selecting, editing and polishing the works.
The first print edition, which rolled off the presses in spring 2017, showcased poetry, short fiction and non-fiction stories, drama and art from 20 young writers and artists representing eight different states.
The first online edition of Bridge: The Bluffton University Literary Journal attracted submissions from young authors from across the country and overseas and went live in December 2017.
---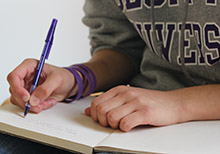 Young writers, between the ages of 14 and 24, are invited to submit works for consideration for publication in Bridge: The Bluffton University Literary Journal. Our editorial associates are looking for writing that demonstrates virtuosity and wonder, original writing that delights and challenges us.

If you are interested in submitting your work for consideration for a future edition, please review these details for submission.
---

Bridge accepts fiction, creative nonfiction (memoir, narrative and lyrical essays), journalism, poetry, and dramatic works for stage or screen. Our next edition will appear online in December 2017. While the deadline for the online issue is past, submissions for the spring print issue will open soon. Got something great? Send it soon!
Inaugural Print edition
To order copies:
Copies of the print edition of the spring 2017 Bridge are $8 each (this includes postage anywhere in the U.S. For international orders, please email us). To place your order, please send a check or money order payable to "Bluffton University- Bridge" to the following address:
Bluffton University, 1 University Drive, Box 125, Bluffton, OH 45817.
Full text of Elizabeth Perkins' Nona
Dear Readers: We didn't have quite enough space in our print edition to feature the entirety of Elizabeth Perkins' play, "Nona." We offer it here for your reading pleasure.
Jamie Lyn (Smith) Fletcher, Editor
>>> "Nona" by Elizabeth Perkins