Fateful decisions
Dr. Julia Heath '78
Majors: sociology, psychology
Professor of economics, University of Memphis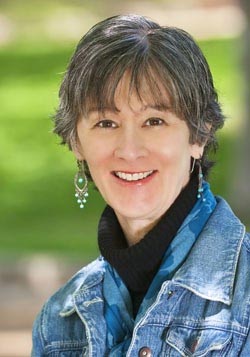 It only took one presentation by a Bluffton admissions representative to convince Julia Heath, then a high school senior, about her college choice.
Nearly 10 years later, as a Ph.D. student in operations research at the University of South Carolina, she was converted to economics by the first course she ever took in the subject.
Both decisions have worked out well for Heath, who credits her Bluffton background with much of her success as an oft-honored economics faculty member for 25 years at the University of Memphis. Last year, for example, she was named Tennessee Professor of the Year by the Carnegie Foundation for the Advancement of Teaching.
Sight unseen.
Heath never visited Bluffton before enrolling; she was sold solely by the admissions pitch she heard at Bellefontaine, Ohio, High School. "Wow, this sounds like a great place," she remembers thinking, adding that she liked Bluffton's small size and the sound of its focus on the liberal arts, service and teaching.
Soon after arriving on campus, she discovered that teaching was "a calling" for Bluffton faculty, she recalls. She was interested in both sociology and psychology, and when Kay Hardesty joined the sociology faculty her sophomore year, "Kay just changed my life," she says.
Hardesty interested her in pursuing a doctorate in sociology, Heath explains, and though her plans ultimately changed, "Kay let me know that was possible." His dedication to his students also left a lasting impression on Heath, whose honors at Memphis include the Thomas W. Briggs Teaching Excellence Award.
Going another route.
At the University of South Carolina in 1982, every doctoral student in the operations research program had to take a microeconomics theory course. She decided to take it in the summer "to get it over with"—"and I ended up totally in love with it," says Heath.
She earned her Ph.D. in 1986 and began her teaching tenure at Memphis, where she chaired the economics department for nine years as well. Since stepping down as chair in 2008, she has also returned to the research in economic education that she started early in her career.
She implemented the Center for Economic Education at Memphis and the Smart Tennessee financial literacy program. Now for children in kindergarten through eighth grade, Smart Tennessee is "basically about how you make a good decision about money," she says.
Applying a lesson.
Memphis faces many socioeconomic and other challenges, which "show up in our classrooms quite a bit," notes Heath, who lives in the city with her husband, David Bourne, and their 16-year-old daughter Maggie. "I think the grace that I saw modeled by Bluffton faculty has helped in dealing with those students with challenges I never had."
"Bluffton gave me what a liberal arts education is supposed to give students—the ability and appreciation for thinking, and recognition for the grace that's in the world," she says.