Our alumni
ANNA HUNSBERGER '15
CRAFT SHOP COORDINATOR
"After being out of school for two years I will occasionally reflect on my experiences at Bluffton. My main reflections consist of the connections I made with other people and how those connections encouraged and challenged me in more ways than just academics. I was challenged in the way that I view myself and the people around me. Today I still value these things and view Bluffton as an important growing point in my life. I am inspired to love change, continue learning and understand that the only way to eat an elephant is one bite at a time. Which is a morbid way of saying take it one step at a time."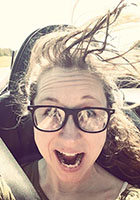 Caroline Yoder Macomber '08
"TRAVEL IS FREE" CEO AND DESIGNER
"In my work as a UI designer, it's extremely important to make design choices with intentionality. This is something I learned in my years as an art student at Bluffton University. While there, I had an engaging environment to not only share my work with other students, but to answer thought provoking questions about the meaning and intent behind my artistic decisions. And as this mindful approach to decision making was being encouraged by my professors in the studio, so too was it exemplified and nurtured for the decisions of day to day life."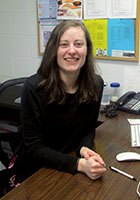 lauren faris '13
GRAPHIC DESIGN/MARKETING, THE POWELL COMPANY LTD
"Through the Bluffton University arts program, I learned the importance of process and concept. I was exposed to new mediums and techniques. And I was encouraged by other students in the arts program as well as challenged by my professors. Bluffton helped to shape my curiosity and appreciation of the arts in a new way."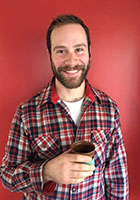 mark ehrman '07
ART EDUCATION MAJOR
"Bluffton University's art department formed my approach to life. My professors taught me to live life as a craftsman; mindfully honing skills with patience and calm to reflect and react to the world around me. I found my place and voice within the community and how to use it while understanding my counterparts. At Bluffton I learned to use what I have while resources abound and to revel in retirement whenever possible."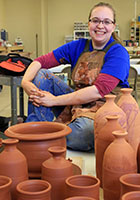 Brittany Sinnema-Jackson '11
CERAMICS INSTRUCTOR SUBCONTRACTOR
"Bluffton University's art department not only taught me the fundamentals of art but taught me how apply the give and flow to everyday life. We not only were taught how to use materials but how to think, plan and execute visions and tasks in ways that expanded out of the realm of art and into the everyday. Even when our pieces didn't comes together as planned or hoped, we learned to remix, reuse and recycle not only our materials but our visions and never give up."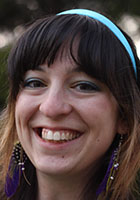 Megan Yoder '11
CAKE DECORATOR
"The things I learned at Bluffton University continue to be influential to me, even long after I graduated. While at Bluffton University, I was taught to push the limits of what I knew, and the exceptional art department faculty helped me to pinpoint the areas I was best at, and then challenged me to take them even further. I encounter a variety of mediums and challenges on a daily basis, and thanks to my experiences at Bluffton, I am able to confidently approach them with anticipation, not hesitation."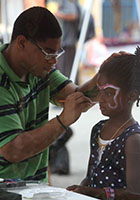 Anthony M jenkins '11
GALLERY ASSISTANT DIRECTOR
Art Beyond Boundaries Gallery

"My time at Bluffton University was a life changing experience. The art program introduced me to many mediums I had not experienced in high school. My professors always listened to my concerns and encouraged me to pursue my interest in graphic design. Bluffton's diverse community allowed me to break from my comfort zone, discuss religion in the classroom, and developed close friendships with peers from Northern Ohio to other countries such as, Ethiopia and Vietnam. I currently work at an art gallery that provides an exhibition venue for both emerging and seasoned artists with disabilities. Our mission is to display, market, and sell their artwork, highlighting their artistic ability instead of their disability."
Amanda Huston '13
ASSISTANT LIBRARIAN
Dorkas Carey Public Library
"I think often about how different my life would be if I hadn't attended Bluffton University. I met my best friends there. I have a job I love thanks to the experiences I gained with my campus job. And, I've had the privilege of using my art degree to illustrate a children's book and paint a mural."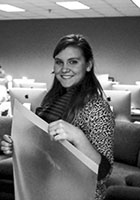 Beth Ross Black '16
OPERATIONS ASSOCIATE
TNTP and Independent Contractor, Uptown Images.
"Going to Bluffton University was the best choice I could have made for myself. I've always been a self-motivated person, but it's not hard for me to get discouraged. At Bluffton, the class sizes are small and personal, so you get the attention you need to be the best you can be; your peers are usually hard working, kind, and ready to provide constructive criticism; and professors will either push you to be what you never thought you could be or encourage you to press on even when you think you've failed. Photography has been an interest of mine for several years, but through my studies at Bluffton I've acquired a greater knowledge of editing techniques, been given the opportunity to experiment with studio lighting, and become more aware of new and experimental photographing techniques, as well as having developed a deep seated love for film photography and appreciation for its importance in the past, present and future of photography. Now I'm pursuing my dreams, working from home as a photo editor for a local photographer and also trying to jumpstart my own photography business!"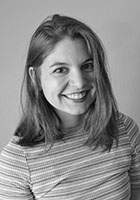 Abagial Graber '16
GRAPHIC DESIGNER
"The Bluffton University art department offers so many incredible opportunities to stay connected to the art world outside of college. I think those experiences were easy and important to take advantage of, whether it was an art trip to Chicago or stopping by Phil Sugden's studio at the Jone's building in Findlay. I think it's really important to get that kind of cultural art experience, but I also found it incredibly inspiring to see all of my professors not only teaching, but creating beautiful works of art in their free time - living proof that they can do what they teach.
It's been a year since I graduated Bluffton and I am not exactly where I thought I would be. Meaning, I didn't find a job until about a month ago, which is nearly 11 months after graduating. My best suggestion to you would be to network! Get as many internships as you can while still in school and over the summer. One of the main reasons I got the job I have today is because the marketing director who hired me knew two of my internship supervisors!
One of the best things about the Bluffton art department is the small classroom size. A small class size allows for open and personal attention, critique and conversation from both the professor and the students. I think that is what pushed me to create good and even great art.
Sometimes you have to be your own motivation. I think it's important to know that especially with graphic design, you can't learn everything in the classroom. The Adobe programs are always updating and there are always new things to learn. I would watch lots of educational YouTube videos and I had several summer internships where I learned so much. Even at my current job I am learning things that I can't believe I never knew before. Just like pretty much everything, you have to have the motivation to continue to learn to be a graphic designer."

Megan (Moreo '14) Etzkron
Making Something out of Nothing

Personal passion leads to departmental honors project, Big Idea (entrepreneur contest) first place award and preparation for a career in the classroom.
>>> more
Steve Crouse '73
Printmaker turned restaurateur

It's been a real family thing, says Steve Crouse, who's in charge of the restaurant's decorating, music and art which was also his major at Bluffton.
>>> more